Pioneer Log Homes of BC (The Cabin Builders)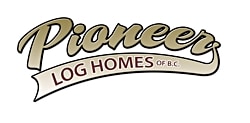 Eagle Brae's log cabins are made by Pioneer Log Homes of British Columbia, Williams Lake, BC, Canada. For nearly 40 years Pioneer has been leading the way in log homes design and innovation. Pioneer are the known leaders in "pushing the limits" of log and timber architecture. Their preferred log species is Western Red Cedar, known for its incredible natural beauties and characteristics. They also integrate Douglas Fir and other timbers where appropriate for their structural value.
The timber used by Pioneer in Canada is totally sustainable. Pioneer consider themselves stewards of the forest and are well on their way to planting 1 million trees for 2011 alone. See their website on Responsibility/Sustainability to learn more. Pioneer builds all kinds of log structures, domestic and commercial, large and small. They build with a variety of techniques including full-scribe log construction, log post and beam construction, and traditional timber frame construction. They have built some inspiring log monuments around the world, so be sure to check their website and view the galleries! Now you have the chance to enjoy your cherished family time in one of their beautiful log cabins in the highlands of Scotland.
Further information