Himalayan Venison Curry Recipe
Your taste buds will simply explode with this fusion of Highland and Himalayan ingredients. Scottish venison, sliced and diced, complete with a dusting of Himalayan spices to give your tummy a treat gastronomic treat. This hearty and wholesome meal will nicely round off a day of hill-walking and exploring.
Ingredients (feeds 4)
Boneless diced venison (600g of shoulder, loin or haunch)
Tomatoes (8 pcs, chopped finely)
Onion (1 large, chopped finely)
Garlic (6 cloves, crushed)
Chilli (2 hot finger chillies, chopped finely)
Ginger (half a thumb's worth, chopped very finely)
Venison Stock (half litre, any other red meat stock would do)
Cumin (half tbsp)
Turmeric (2 tsp)
Coriander seeds (half tbsp)
Mustard seeds (1 tsp)
Kalonji (half tsp)
Cassia bark (1 pc, approx 6 inches)
Fenugreek (1 tsp)
Garam Masala (2 tsp)
Olive Oil (3 tbsp)
Salt (to taste)
Black Pepper (half tsp)
Plain yogurt (100g)
Method
The Meat
The first job is to brown your venison. This should be done as quickly as possible. Use your largest non-stick frying pan and heat the oil on full heat. Brown the venison in small batches and remove to a separate dish with a lid to keep moist and warm once browned. Do not put too much venison in the pan at once, as the temperature will drop too low.
Turn the heat down in the pan in preparation for the next step. After all, it's all in the name of a delicious Venison Curry.
The Curry Paste
The curry paste is the most important part for most curries and it's no different for Eagle Brae's Himalayan venison curry. Using the same oil from the meat, gently fry your sliced onions, chilli and ginger. After ten minutes, when the onions are golden and soft, add the garlic. Fry on gently for another few minutes. Add all your additional ground spices except the mustard seeds and garam masala, fry for another 2 minutes, always stirring all the time. For the most flavourful Venison Curry, add your tomatoes and gently cook with the lid on for 5 minutes until all tomatoes are softened and losing their form. Remove from the hob and blend the entire contents into a fine paste using a food processor. Then, have a quick break as you set it aside to cool.
The Final Prep
Take a new pan, add olive oil and put on a moderate heat. Add your black mustard seeds and fry them until most have popped and the oil smells nice, yes, you will see them popping, like a little science experiment. Add your garam masala and a bit more turmeric for flavour. Stir for a minute or two until they have combined. Now here's the messy bit! With a moderate to high heat, pour in your blended paste. You need to fry this paste and keep stirring; it should bubble like molten lava and will spit and make a mess. Watch your hands (might want to wear gloves!) as you can get very hot splashes on the hands during this phase! Keep stirring until it cools a bit, then turn the heat down a bit and let it bubble away with the lid on. Add the stock and stir. Add the cassia bark. Add your venison. Add plain yoghurt and stir. Add salt and pepper to taste. Add some water if it looks too thick. Stir and simmer until all is nicely combined and then put in the oven for a couple of hours at about 180 degrees checking half way if water needs to be added in case it's drying out. And yes, it's here, your perfect, Himalayan Vension Curry, with a little kick and twist from Eagle Brae.
And Enjoy!
As with many stews and curries our Himalayan venison curry can taste even better on day number 2 so if you are making it to eat with guests feel free to prepare it the day before and just re-heat when required. Serve on basmati rice with chopped coriander, yogurt, Indian pickle and fresh green chillies for those who like them. If you would like your Himalayan venison curry to taste even better, what better way to eat it than in the lodges of Eagle Brae?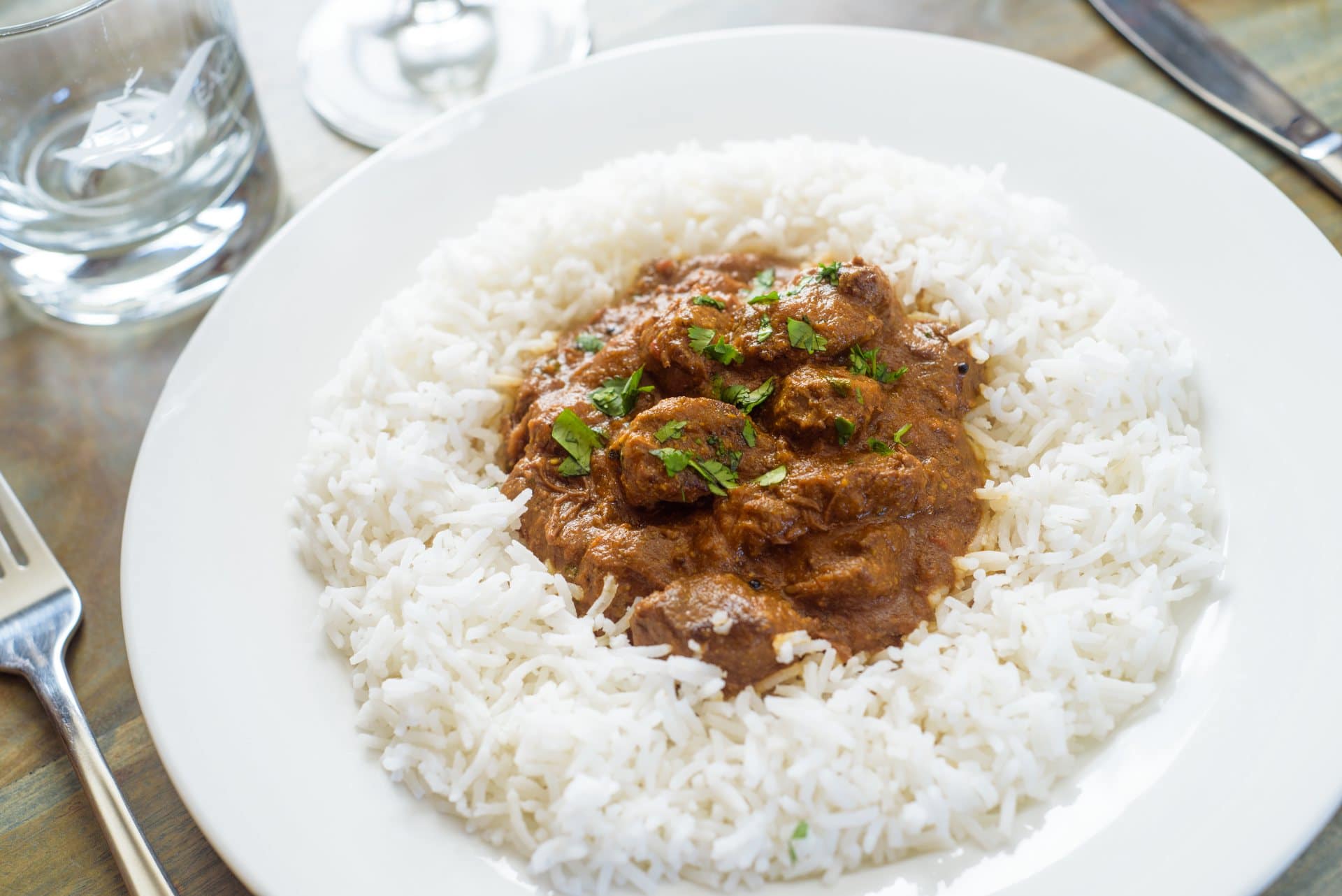 For more delicious Eagle Brae dishes, see our other home-cooked recipes.