Dog-friendly accommodation in the Highlands needs dog-friendly activities!
If you're looking for dog friendly accommodation in the Highlands, then Eagle Brae should be top of your list. We love dogs here, and even have our own resident pup, the Bernese Mountain Dog Shanti! And so you can spend your holidays with your best friend, we thought we'd show you a few of the best activities to do with your dog when on a stay with us. We've dug out some great ideas for you both! So let's throw you a bone and Paw Patrol the best places to… oh that's enough dog puns! On with the list!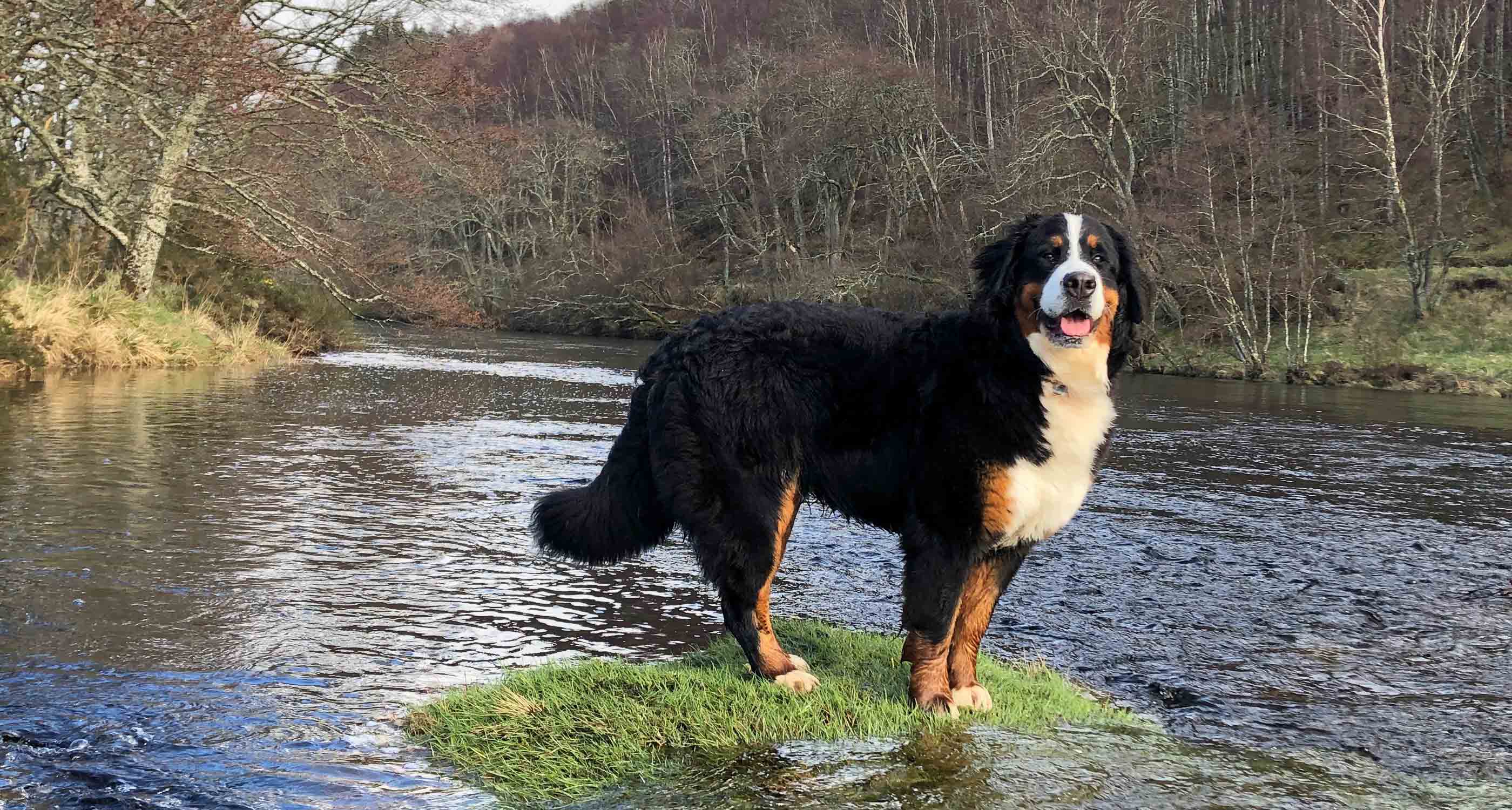 Glen Affric
What part of a tree do dogs love best? The bark, of course. And there will be plenty of that when you take a walk through the stunning woods of Glen Affric. This stunning glen is a National Nature Reserve and has fantastic examples of the Caledonian Forest that once covered most of Scotland. Filled with woodland walks, rivers for cooling off and miles of heathered hillsides to bound and play in. Here, you can walk for miles and never get bored of the beautiful vistas, wildlife and nature surrounding.
Also, in Glen Affric is the appropriately named Dog Falls. This photogenic circular woodland walk takes you to a brilliant waterfall with majestic views along the way. And at the top of the waterfall is an enclosed walkway over the crest, so you can take selfies and peer down over the tumbling falls below. There is so much wide open space here in the Highlands that deciding where to take your dog is going to be the biggest problem!
Inverness
Take a trip to the capital of the Highlands, Inverness, and you can enjoy plenty of dog-friendly activities.
For a bite to eat, you have many options, including the Jammy Piece. And for the avoidance of doubt, a "jammy piece" is Scots for a jam (or jelly to our American friends) sandwich. But dogs are welcome here, and you can get all manner of scones, hot food, soups and wraps. There are many restaurants and dog friendly pubs in Inverness for bigger meals, including the very popular Scotch and Rye. And if you fancy a dog friendly afternoon tea, this can be organised at the Kingsmills Hotel, all you have to do is pre-arrange this in their dog friendly hotel areas.
Many shops are dog friendly in Inverness too. There is even a Dobbies if you fancy a trip to a garden centre, where you can pick up a few toys for pooch too. And if you need some outdoor gear for your stay, dogs are always welcome at Mountain Warehouse in the city centre. And there's plenty of dog walks in Inverness city centre too. A must is a walk along the River Ness upstream to the Ness Islands for some tranquility by the flowing pools.
Loch Ness Cruises
When visiting the Highlands, one of the things you'll definitely want to do is have a cruise on Loch Ness. This dark, mysterious loch has an innate beauty, and offers a great opportunity to relax and let Scotland's wilderness flow over you. But why should you have to do this alone? So, cruises like Loch Ness by Jacobite allow well-behaved dogs on board (again, check which sailings are dog friendly prior to booking). Also, from Fort Augustus, Cruise Loch Ness offers dog friendly cruises, so everyone can admire this legendary stretch of water. Make sure you keep them on a lead though – Nessie can get hungry!
Endless beaches and stunning lochs
Taking your dog on a holiday to the Highlands is all about exploring the outdoors. And Eagle Brae is close to beautiful loch-side beaches at Loch Fada, Loch Ness, and the sandy beaches of Nairn and the Moray coast. We've got mountains and glens on our doorstep, and each one holding its own secrets to discover. Whatsmore, we offer the best of luxury with our dog friendly accommodation in the Highlands. So you can relax in style with your own private deck views, giant spacious cabin and doorstep dog walks. Plus, there's plenty for you and the family to do nearby. So don't delay – book your howl-iday with us today (sorry, couldn't resist just one more.)