Eagle Brae Western Red Cedar Log Cabins
These days a lot of effort goes into designing more eco-friendly buildings for us to live, work or holiday in. But a building technique that has been around for hundreds of years may hold the key to a sustainable future. We're talking about the Western Red Cedar log cabin. Just like the eco-friendly log cabins we have here at Eagle Brae, this age-old building technique may never be beaten.
While the term log cabin has been around for centuries, it has been abused and bandied about. Today, it also refers to machine cut prefabricated structures. But by log cabin, we mean only those full round-log hand-scribed log cabins. Those beautiful, picturesque hideaways, crafted entirely with chainsaws and chisels.
Building Eco-Friendly Log Cabins From The Ground Up
The construction of our log cabins, both in the materials used and the building technique, has an extremely low environmental impact. There is substantial carbon lock-up in a 100 to 150 year old cedar. The tree absorbs carbon into the fibre of its trunk, whilst also consuming carbon dioxide and releasing oxygen throughout its life.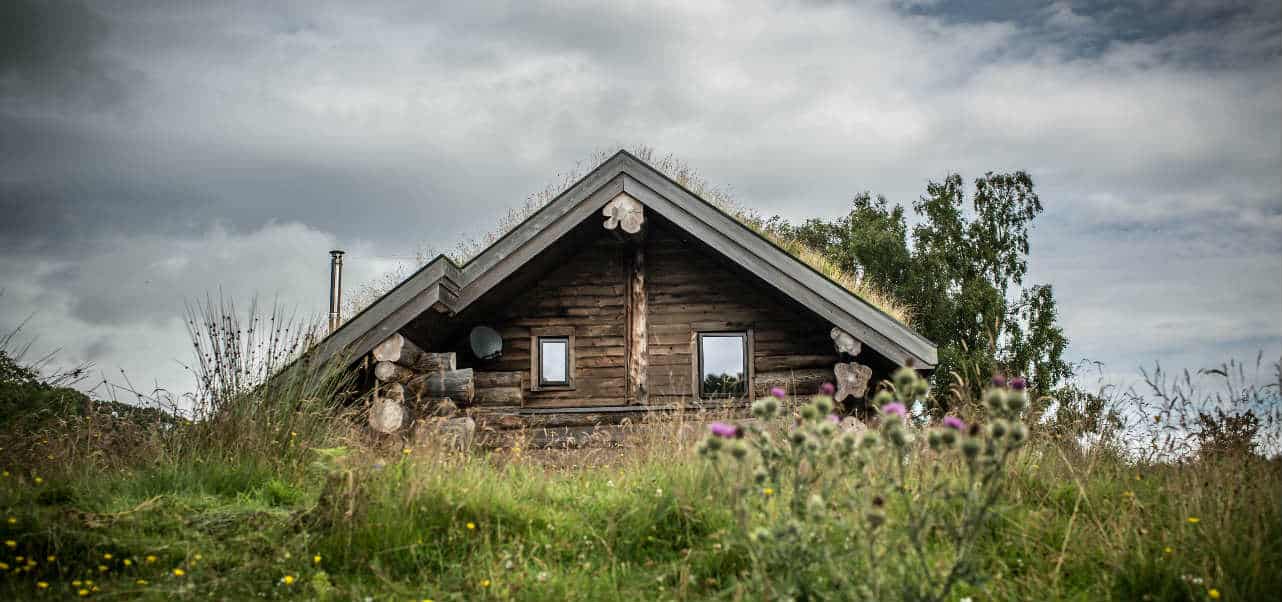 Very little energy has been used during the construction of our eco-friendly log cabins. They have been hand-made without the use of tools larger than a chainsaw (well…and a crane to pick up the logs!). And since a log cabin incorporates almost no metals, cement or brick, building one is also extremely economical.
Conserving Energy And Preserving The Environment
During the construction of a conventional building, around 75% of the total energy expended is used in the manufacturing of the building materials. But during the construction of a log cabin, it is almost zero. Fewer fasteners are required when building a log cabin, which means lower quantities of metals utilised. The log walls provide the finished surface both inside and out, not only saving on labour and materials on weather-proofing and decorative finishes, but crucially providing maintenance-free log cabins for us too!
Built To Weather Any Storm
Western Red Cedar is an incredibly durable wood and lasts hundreds of years. The timber has naturally present defences against fungi and bacteria. And while most soft-woods have perishable heartwood, the Western Red Cedar's is surprisingly decay resistant. The timber is also highly repellent to wood boring insects.
Log cabins are also up to 15% more thermally efficient than conventional houses. The colossal logs act as thermal mass, storing heat during the day and gradually releasing it through the night. Which means less energy is required to heat the log cabin. And the same is true of the reverse. Research shows this is also true of the cooling requirement for log cabins in hot climates.
Building Eco-Friendly Log Cabins Is In Our Nature
So the Western Red Cedar log cabin, whilst being a strong, safe and beautiful structure, also competes superbly on all fronts as an environmentally sound building: the materials are renewable, the build energy is minimal, the thermal efficiency is impressive and the longevity is astonishing. But it doesn't stop there! When these eco-friendly log cabins eventually do come to the end of their lives, it will require less energy to demolish them than a conventional home. Not to mention the added benefit of recycling the old logs for other uses too!