Wild Swimming near Inverness
With both the physical and mental benefits of open water swimming being widely promoted, wild swimming is becoming ever more popular. And with so many beautiful places to go wild swimming near Inverness, we decided it was time to create you your very own guide to some of the best spots to take a refreshing dip in the Highlands. So, if you are lucky enough to be visiting us here in Scotland, and you are an avid wild swimmer, there is nothing more magical than a refreshing swim in our soft loch waters! So read on and find out more about where to swim around Inverness and most importantly how to do this safely.
First and foremost is safety…
Wild swimming is something that must be undertaken responsibly as open water swimming can be very dangerous. So below we have created some key elements to read up on before embarking upon this outdoor activity.
Safety guide:
NEVER go outdoor swimming alone and be aware of your capabilities as a swimmer. As a guide only swim 10% of what you would do in an indoor pool as the colder temperatures put more strain on your body.
Always research where you are going to swim to know if it is safe. For example, there are no strong currents or dangerous algae. Locals are always a good source of advice.
DO NOT dive or jump into open water. This is one of the biggest causes of death or injury as it is not known what is lurking beneath the surface.
Always be careful when paddling as there can be sudden drops into deeper water. For non-swimmers, this is extremely dangerous so if around water you should always be wearing a good quality buoyancy aid.
BE VISIBLE. With many high vis products on the market such as floats and swim caps, it is sensible to use these. Not only do they make you visible to other water users, but it also makes it easier to see you if you get into trouble.
AVOID WEEDS. Weeds can get caught around your legs and are usually easy to see if they are an issue. Swim away from them. Should your legs get caught, DO NOT PANIC! Swim slowly with your arms to avoid them and they shouldn't get caught around your legs.
DO NOT SWIM UNDER THE INFLUENCE OF ALCOHOL! This is a huge cause of growth in the UK. Judgement is impaired as well as lowering body temperature making you more susceptible to hypothermia.
Where to go wild swimming near Inverness in the Highlands
So now safety is covered let's take a look at the places you can wild swim in the Highlands…
Loch Ness
Being the obvious stretch of water in this area, Loch Ness offers swimming opportunities to those who wish to take a dip. However, given its depth, it rarely warms up beyond 5°C. So it is advisable to only swim here in the warmer summer months and to be a seasoned dipper. Good access points lie at Drumnadrochit, Dores and Fort Augustus.
Plodda Falls
Here one of the UK's best waterfall swimming spots lies. A deep and dark plunge pool of 30 metres awaits. It can be tricky to scramble down but once in you will enjoy a beautiful dip in peaceful surroundings.
Loch Beinn a Mheadhoin
Described as swimming heaven, this stunning loch is surrounded by lush pine forest and is a spectacular place for a dip. Shoes are needed to access the shores as it is rocky.
Dog Falls
Dog Falls is a beautiful length of river enveloped by Scots Pine. With good plunge pools above the falls and a deep canyon further downstream you can enjoy a refreshing dip in a few locations.
Lochan Fada
This hidden gem is a long narrow stretch of water that is quite shallow so warms up with sunshine. Also, it is weed-free which is a bonus.
Nairn Beach
A little further afield and with more sand lies Nairn beach. This is a vast stretch of beach, from which you can swim, lines the town of Nairn. Nairn beach is one of the largest sandy beaches in the area. Enjoy a day out at the beach, then after a refreshing swim enjoy some of the local restaurants and nearby attractions, such as Fort George, Cawdor Castle and the Clava Cairns.
Randolph's Leap, Forres
A stunning gorge on the River Findhorn provides a pool where you can take a scenic dip. With some shallow spots, you can also enjoy a paddle.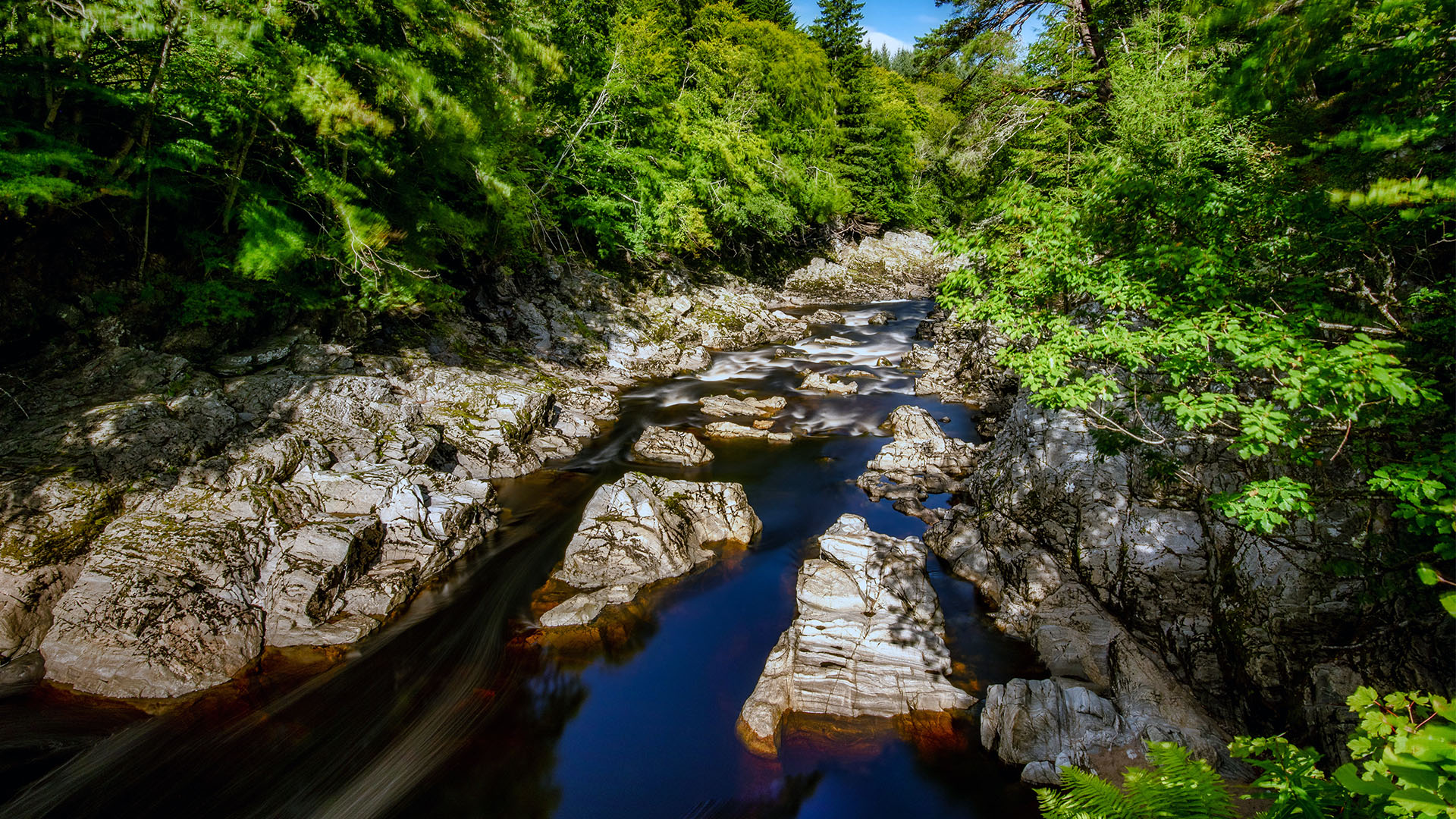 Plenty of choices but be respectful
While there are many places to enjoy a dip it is important to respect these hidden gems. They are what they are because they are remote a relatively untouched beauty spots. So please look after these places and take all litter away with you so that they can be preserved and enjoyed by all. After all, we want these spaces to stay beautiful and magical.
Stay at Eagle Brae
If you are looking for somewhere to stay why not take a look at our accommodation. Being close to all these stunning locations we are a great base to spend a holiday at. Book today or contact us for more information.