Chicken Casserole à la Clan Chief
Chicken Casserole à la Clan Chief Recipe
A guaranteed family favourite: creamy, velvety, and delicious Chicken Casserole. This dish is in fact best made with the leftovers from a traditional roast chicken so be sure to deliberately buy a chicken too big for your roast! We've even added the left-over bread sauce into the mix when making this at home before, a fantastic way to recycle your roast into a scrumptious second supper popular with all ages.
Ingredients (feeds 4)
Large whole free-range chicken (2 kg)
Mushrooms (200g, sautéed in olive oil)
Eggs (2 hard-boiled, chopped into quarters or smaller)
Sweetcorn (150g, drained)
Chicken gravy (150ml)
Chicken stock (250ml)
Milk (150 ml)
Butter (75g)
Cream (100ml)
Flour (1.5 tbsp or as much as can be absorbed into the melted butter)
Dried Thyme (sprinkle)
Paprika (to season the whole chicken)
Flat leaf parsley (15g fresh chopped)
Olive oil (1 tbsp)
Salt
Black pepper
Method
How To Roast Chicken
To roast your chicken place the chicken in a baking tray and rub olive oil all over. You can put an onion inside the chicken as well if you like. Then sprinkle paprika, dried thyme, salt, and pepper on your chicken. Roast at 210 degrees uncovered for 20 mins, then reduce to 180 degrees and cover the chicken with tin foil and roast for an hour, then remove the tin foil and roast again for 15 mins uncovered.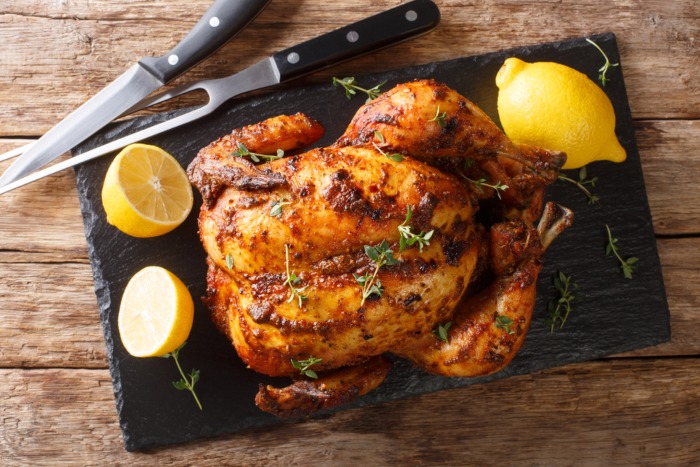 Once you have removed your chicken from the oven make the chicken gravy using the same roasting tin, using either flour or cornflour, seasoning, even gravy granules, and hot water, or just however you normally make your gravy.
Eat as much of your roast chicken as you like and then remove all remaining meat from the bones. Set aside. Set aside any left-over gravy also.
How To Make Chicken Stock
Stocks are always responsible for the central underlying flavour so it's important to make a good one! Take all the bones, and the onion if you had one inside the chicken when it roasted, and cover with hot water. Add celery, onion, garlic, carrots, and bay leaves and simmer for an hour or more until nicely reduced and concentrated. Strain and set aside.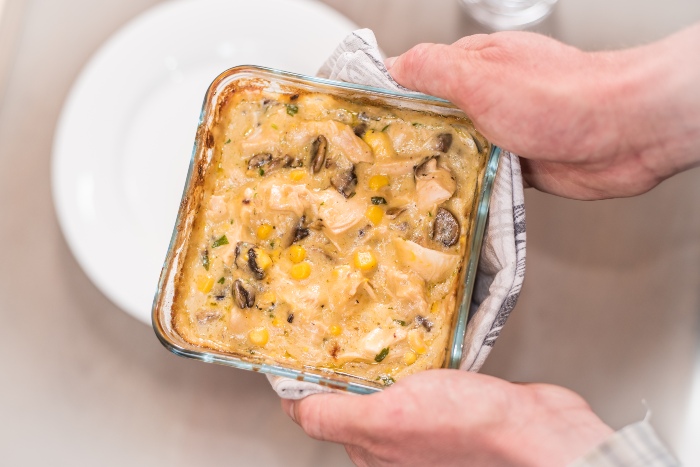 How To Make The Chicken Casserole
Take a large casserole dish and put the chicken pieces, sautéed mushrooms, hard-boiled eggs and drained sweetcorn inside. Keep the lid on to keep everything moist whilst you prepare your sauce.
The Chicken Casserole à la Clan Chief Sauce
Chicken a la king is traditionally made with a velouté sauce which is the same process as making a white sauce but by adding chicken stock instead of milk to the roux. For our chicken casserole recipe, we are going to add both the chicken stock and milk, and the gravy and cream for the ultimate creamy velvety taste!
Melt the butter in a large pan on low heat. Add the flour and keep stirring until all is absorbed smoothly into the butter, turn the heat up a tad and add some chicken stock, keep stirring all the while. Initially, your sauce with thickens markedly as you add more stock it will start to become smoother and runnier. Now add some of the milk and continue stirring. Next, add the gravy and the cream and keep stirring. Let your sauce get up to simmering point and if it's too thick add more stock or milk, if it's too runny let it simmer on and reduce. Remember it will naturally reduce and thicken again when cooking in the oven so you will want to make it slightly runnier than you want it in the finished dish.

The Finished Chicken à la Clan Chief
Pour the sauce over your other ingredients in the chicken casserole and combine well. Season with salt and pepper and mix again and taste for seasoning. Put the lid on and put it in the oven at 180 degrees for half an hour. Remove from the oven, sprinkle with fresh parsley, and serve with rice, or mashed potato and crunchy greens. Yum!
For more delicious Eagle Brae dishes, see our other home-cooked recipes.