Keeper's Ale and Venison Carbonnade
Keeper's Ale and Venison Carbonnade Recipe
One of Eagle Brae's most popular meals is our Keeper's Ale and Venison Carbonnade which is a Struy estate wild venison, caramelised onions, home-brew ale and fresh thyme stew. Easy to make and absolutely delicious.
Ingredients (feeds 4)
Boneless diced venison (600g of shoulder, loin or haunch)
Onion (4 large brown onions, cut into large half-moon slices)
Garlic (6 cloves, crushed)
Bay Leaves (4 leaves)
Soft Brown Sugar (1.5 tbsps)
Flour (approx. 1.5 tbsps)
Fresh thyme (small bunch tied with string into a bouquet garni)
Venison Stock (250ml, any other red meat stock would do)
Cider Vinegar (1.5 tsps)
Olive Oil (3 tbsp)
Salt (to taste)
Black Pepper (half tsp)
Traditional Ale (400 ml, home-brew or other sweetish dark traditional ale)
Fresh Flat Leaf Parsley (small handful, finely chopped)
Method
The Meat
The first job is to brown your venison. This should be done as quickly as possible. Use your largest non-stick frying pan and heat the oil on full heat. Brown the venison in small batches and remove to a separate dish with a lid to keep moist and warm once browned.
Do not put too much venison in the pan at once or the pan will become crowded, the temperature will drop too low and the meat will leach blood and juiciness which you don't want! Turn the heat down in the pan in preparation for the next step.
The Caramelised Onions
Cut your onions in half and then cut large half-moon slices. Do not cut your onions smaller than this. Add your onions to the venison pan in the same oil and soften for at least 5 mins stirring all your venison juices off the pan and into the onion mix. Now add your garlic and sauté on for another couple of minutes. Next add your sugar, stir again and cook on for another 5 mins or so. Then add your flour, keep adding flour until your oily sugary mix will absorb no more. Keep stirring throughout.
The Carbonnade
Turning the heat up pour your ale into the pot stirring continuously until all the caramelised onions floury mix is absorbed into the ale. Then add your stock stirring continuously. Bring to the boil and let the sauce reduce to a consistency a little more watery than you want your finished stew as it will continue to thicken and reduce in the oven. Add your venison, the fresh thyme, bay leaves, salt and pepper and put in the oven covered at 180 degrees for one hour.
The Final Steps
Take your ale and venison carbonnade out of the oven and stir through the cider vinegar. Put back in the oven for another hour or until venison is nice and tender. Add more water or stock if it starts to dry out or thicken too much. If it's too runny leave for a while in the oven uncovered. If it's perfect leave the lid on and add nothing else! Once the venison is soft and tender take out from the oven and add fresh chopped parsley and serve with a baked potato and some nice fresh greens. A guaranteed family favourite, this one!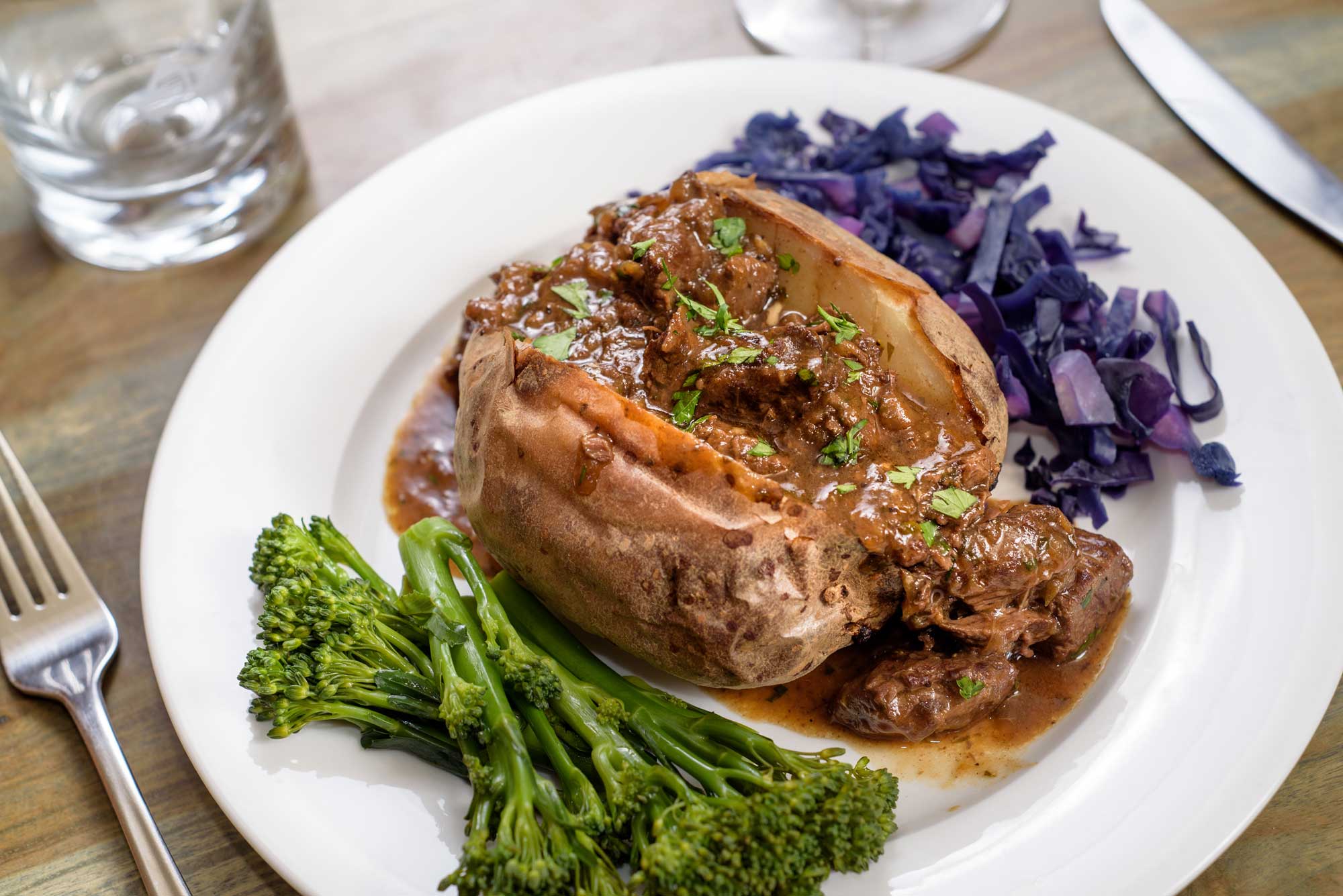 For more delicious Eagle Brae dishes, see our other home-cooked recipes.