North Coast Fish Pie Recipe
A great fish pie is the ultimate comfort food. It's nice and easy to make and loved by most! We source all our fish from Scrabster on the north coast of Scotland. Nice fresh sustainably-sourced fish is a must so look out for your best options locally.
Ingredients (feeds 4)
Smoked white fish such as smoked haddock (200g)
Fresh salmon, trout or sea trout (200g)
Fresh white fish such as cod, pollock, coley, haddock (200g)
Frozen prawns (100g)
Potatoes (500g)
Chestnut mushrooms (150g, sliced)
Cherry tomatoes (a dozen, whole)
Milk (1.25 pints)
Eggs (4 hard-boiled)
Butter (100g)
Cream (100ml)
Flour (1.5 tbsp or as much as can be absorbed into the melted butter)
Flat leaf parsley (15g fresh, chopped medium fine)
Paprika (half tsp)
Mustard powder (1 tsp)
Olive oil (1 tbsp)
Lime juice (half a lime)
Lemon juice (half a lemon)
Salt
Black pepper

Method
The Mash
Put some salted water on the boil and cook your potatoes ready to make some mash. Once the potatoes will cut through easily with a knife, drain them and add them back to the same pan. Add a quarter of a pint of milk to the potatoes and mash. Mash them thoroughly until smooth but don't add too much milk otherwise the mashed potatoes can easily become mixed in with the creamy sauce later! Put the lid back on the mashed potatoes to keep warm and set aside.
The Mix
Fry your sliced mushrooms in olive oil for 5 mins or so until they start to brown, then set aside. Now grab a suitably sized oven-proof dish (no lid required), making sure its deep enough for your fish pie mix and the mashed potato to go on top. Dice all your fish and put into the dish raw. Add your frozen prawns and the chopped boiled eggs, cherry tomatoes, fried mushrooms, lemon and lime juice. Last of all add the salt, pepper and fresh chopped parsley.
The Sauce
Melt the butter in a pan on a low heat. Once the butter is melted start to add your flour, the paprika and the mustard powder. Keep stirring until all three are absorbed lump-free into the butter. Turn the heat up a little and start adding your milk, whilst stirring continuously. The mixture will start to thicken markedly. Keep stirring and slowly add some more milk. Gradually add the cream and the rest of the milk stirring all the while until there are no lumps. Don't worry if your sauce has become a little thin, as it starts to heat up to a simmer it will again thicken. Keep the heat low and do not boil the sauce, keep it just under a simmer and keep stirring. If it is too thick once hot add a little more milk, if it is too runny simmer it on a little for a few minutes to thicken.
The Finished Pie
Pour the sauce over your fish pie mix and stir thoroughly to combine with the lime and lemon juice already in there. Once everything is evenly mixed leave to cool for half an hour to let your mix thicken making it less likely your mashed potato will sink into your mix. Once the mix is cool and thicker add your mash on top and spread evenly over the mix. Rough the top surface with a fork as the furrows from the fork trails get nice and crispy in the oven. Put in the oven and cook for 35-40 mins on 180 degrees. Serve with crunchy green vegetables, samphire or petits pois or all three! Garnish with a pinch more of fresh parsley and enjoy!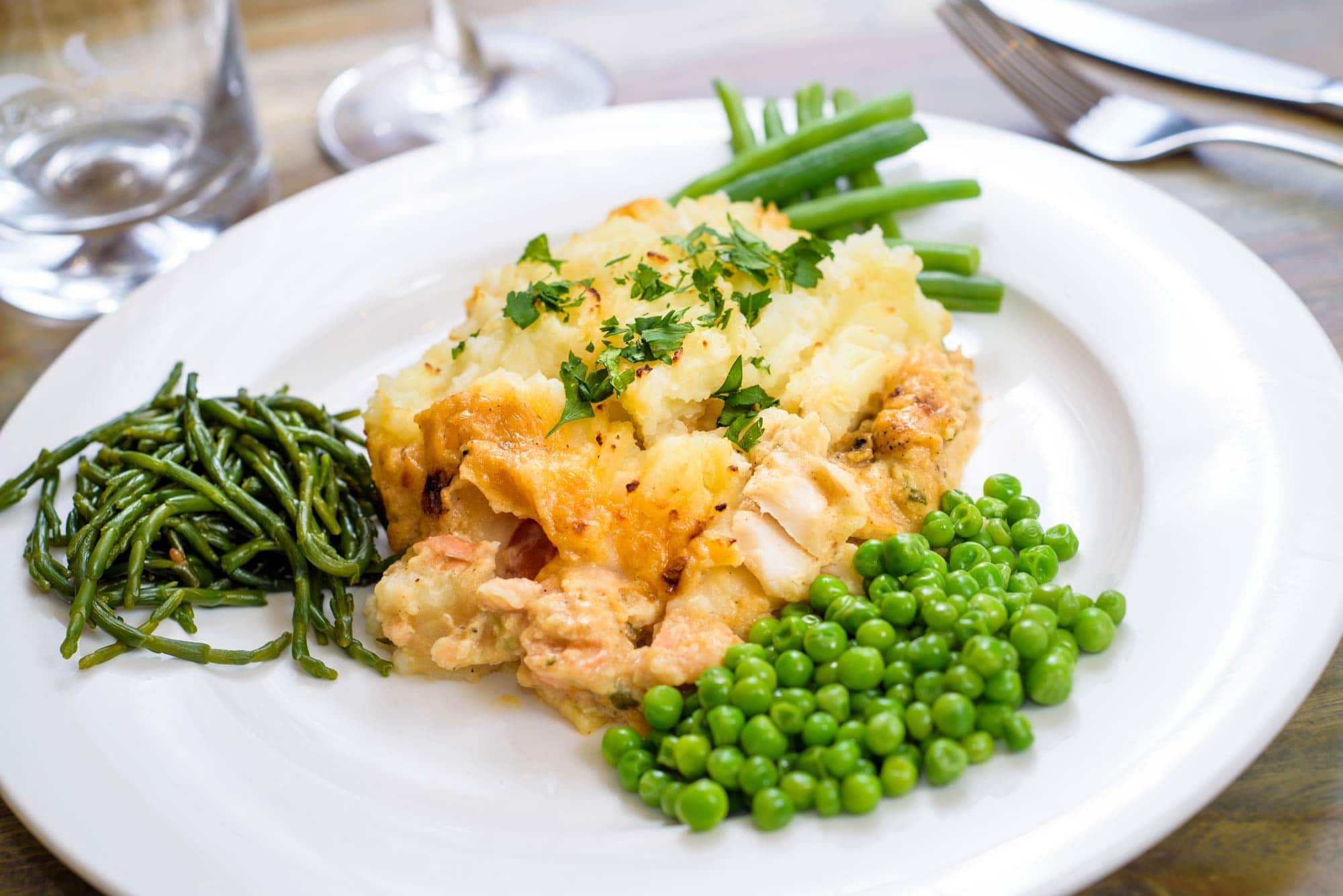 For more delicious Eagle Brae dishes, see our other home-cooked recipes.