Pork Belly and Scotch Bonnet Cassoulet
Pork Belly and Scotch Bonnet Cassoulet Recipe
Our Pork Belly and Scotch Bonnet Cassoulet is a super deliciously complex and naughty Mediterranean-style dish destined to become a family favourite once tried! This dish can be made with fresh pork belly but we prefer to use cured pork belly for the additional flavour it contributes to the dish. Its not easy to buy cured pork belly but it is fairly easy to cure it yourself but you will need to prepare several days in advance!
Ingredients (feeds 4)
Cured pork belly (500g, without the rind, cut into 1 cm cubes)
Red pepper (1 pc, cut into small 1cm cubes)
Onions (1 large or 2 small, chopped finely)
Cannellini beans (1 tin, 400g)
Tinned chopped tomatoes (1 tin, 400g)
Garlic (half a dozen cloves, finely chopped or pressed)
Scotch Bonnet chilli (maybe only a half or quarter chilli depending on the size, very finely chopped)
Lamb stock, or any other red meat stock (500ml)
Soft dark brown sugar (2 tbsp)
Black treacle (1.5 tbsp)
Fresh Rosemary (15g, tied with string into a fresh bouquet garni together with the thyme)
Fresh Thyme (15g, tied with string into a fresh bouquet garni together with the rosemary)
Paprika (2 tsp)
Olive oil (1 tbsp)
Water (as required)
Salt (only if you use fresh pork belly, if you use cured pork belly no salt required)
Black pepper
Ingredients for the cure (quantities entirely depend on how much meat being cured)
Pressed cloudy apple juice (2L)
Cider (regular shop bought carbonated cider 500ml)
Water (enough for the meat to be entirely submerged, approx 1L)
Salt (1kg)
Soft brown sugar (500g)
Black treacle (450g)
Saltpetre [Potassium nitrate] (20g)
Juniper berries (a dozen)
Bay leaves (half dozen)
Black pepper corns (whole, a dozen)
Cloves (half dozen)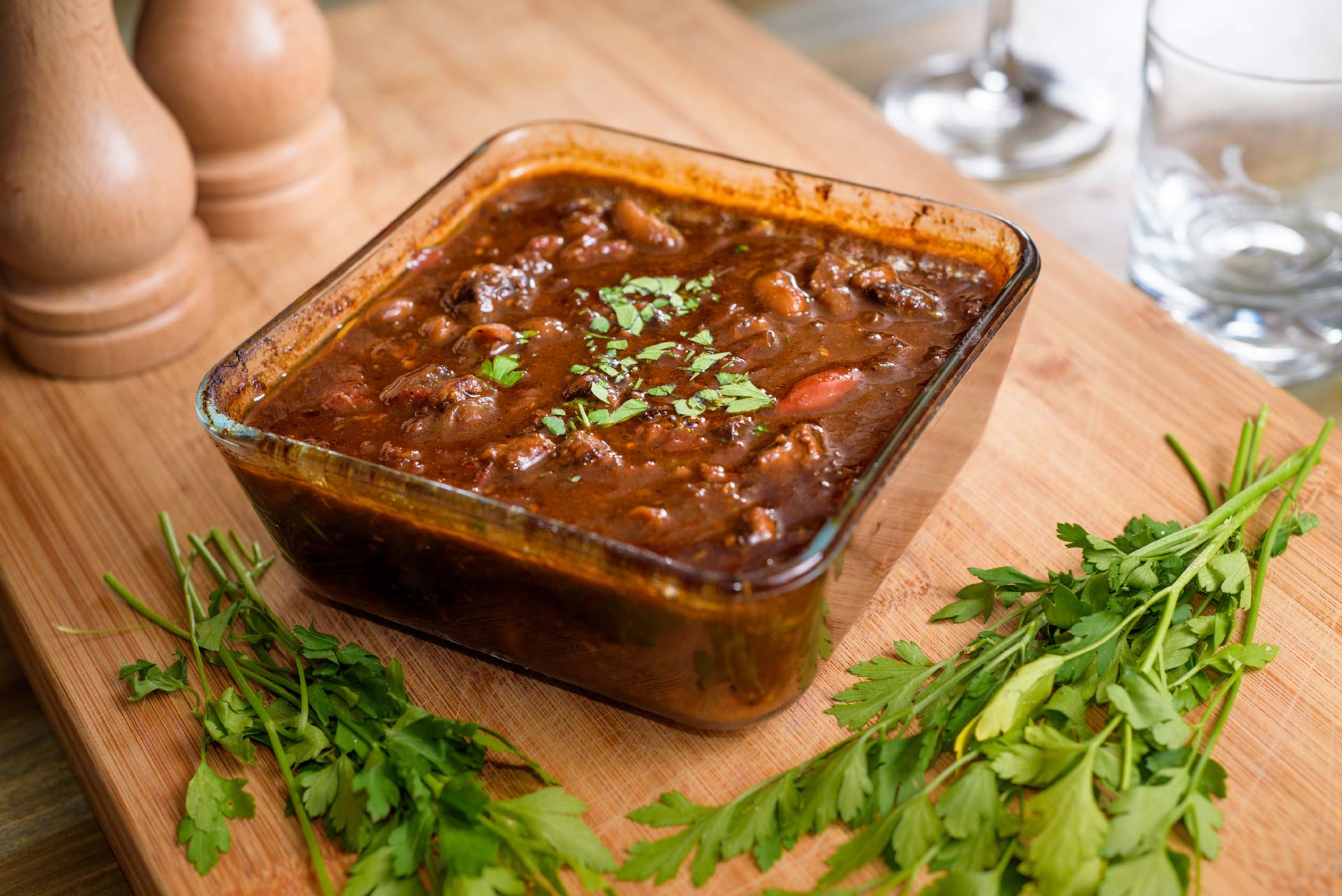 Method
The Cure
This cure can be used to cure other cuts of meat too such as hams etc and can be used again and again over a long period of time so its worth considering making a decent quantity and not throw it out after you have cured your belly. You will need a non-metallic preferably plastic vessel with a lid for your cure and enough fridge space for this vessel.
First take a large cooking pot and gently heat the water, add the sugar and the salt, and keep stirring until they are both dissolved and then turn the heat off. Next add the apple juice, the cider and all the other cure ingredients and mix well. Pour the mixture into your non-metallic vessel and set aside to cool. Do not put your meat in until the curing liquid has cooled down, preferably to fridge temperature.
Submerge the whole belly piece (rind on) in the curing brine. We put a wooden chopping board on top to keep the meat under the surface. Leave in the fridge for 48 hours with a lid on, changing its position/ turning it over once every 12 hours. Remove from the brine and wash under a cold tap and then pat dry with kitchen roll or similar. Put back in the fridge on a grill or rack or anything that will let the air circulate all around it. Leave in the fridge for 2-3 days until dry and waxy to touch. To use this belly in the cassoulet take a very sharp knife and cut the rind off and then dice all the rest of the belly into 1 cm cubes.
The Pork Belly and Scotch Bonnet Cassoulet
In a heavy bottomed casserole that can go in the oven, and with a very small amount of olive oil on high heat add the pork belly. The belly is very fatty so will give off plenty fat of its own so you don't need much oil at all. Fry in batches if you have too much to brown in a single batch. Fry the belly until starting to crisp and then remove from the pan and set aside in a casserole with the lid on.
Once all the belly is browned, gently fry your onions and chilli in the olive oil. After 10 mins or so add the garlic and red pepper. Then add the paprika and stir for a minute or so. Then add the sugar and mix well and allow to caramelise for a few minutes, then add the black treacle and mix again. Add the browned pork belly, tinned tomatoes, the cannellini beans, the stock, water, the fresh herbs bouquet garni and black pepper and mix well. If you have used cured pork belly do not add salt, there will be plenty of saltiness from the belly alone.
Put in the oven at 180 degrees for a couple of hours or until your belly cubes have started to melt and lose their shape. Check regularly and add water if needed so it doesn't dry out.
The Finished Result
This is great served with herbed mashed potato and crunchy greens, and will taste even better on day two so be sure to make plenty!
For more delicious Eagle Brae dishes, see our other home-cooked recipes.