Family Holidays in Scotland with Eagle Brae
When you think about your last family holiday. What comes to mind? A fabulous day out sightseeing? Or maybe it was white water rafting, a visit to the zoo or even some bird watching? Whatever it is, we often remember and rate how good our holiday by the things we saw and did. So, to help you prepare for the most memorable family holidays in Scotland, we have collated a simple list of things to see and do right here at Eagle Brae and the neighbouring area.
Things to do during your stay
Walking
Stunning Glen Affric and the areas surrounding Eagle Brae have numerous routes to wander along, taking in the dramatic scenery that is synonymous with Scotland. Woodlands, lochs, and moorlands. There are routes suitable for all abilities, and some have proper pathways or are flat to allow for those with limited mobility. All of them have plenty to see along the way.
You could turn your walk into something really exciting for the kids, like pretending you are going on a bear or a Gruffalo hunt. Or see how many species of wildlife you can spot. The dramatic scenery gives you a backdrop for your imaginations to run wild! And don't forget your picnic so you can fuel your adventure. You can order what you need through our concierge service.
Pony trekking
This is a fabulous way for the whole family to enjoy areas around Eagle Brae that not everyone gets to see. Beginners are welcome, so you don't need to be an expert rider. And the guides are very knowledgeable about the areas, so you'll get some information about the area, its wildlife and history along the way.
We can organise this for you, including trekking through the spectacular nature reserve of the Glen Affric National Nature Reserve. Contact us to find out more.
Husky/Dogsledding
How about being transported around by another type of four-legged friend? At Eagle Brae we can arrange for a dog sledding experience that includes setting everything up, learning how the dogs are controlled and more. Then, you'll head off to enjoy an exhilarating dog-sled ride around the wildflower meadow. An experience that is sure to help make your holiday in Scotland one of the best family holidays ever!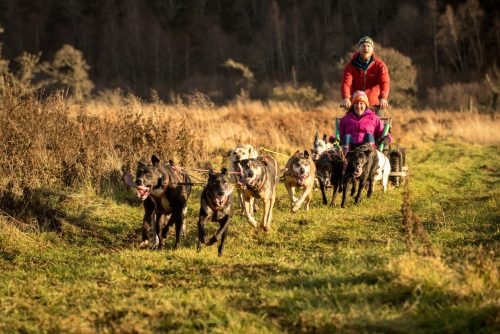 Bird watching
Eagle Brae and the surroundings offer the best bird-watching opportunities. So much so, we have named our cabins after local birds! The peace and quiet in the Highlands mean that some rare species have made it their home. You can expect to spot golden eagles, peregrine falcons, skylarks and more. Some British birds are only ever seen in the Highlands, like the ptarmigan and the crested tit.
Canoeing
We can arrange a canoeing experience for the whole family, from complete beginners to experienced canoeists. Our scenery is even better when viewed from the water, and we offer guided trips so we can show you the absolute best the Highlands has to offer. And you'll be amazed by the different types of wildlife you'll get to see along the way, on land, in the sky and in the water. This is something that is sure to rank up there with one of the best days you could have on your holiday.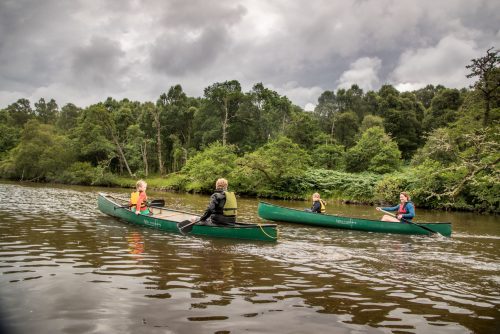 Other activities
We can arrange a whole host of other activities for you when you come to us for your holidays in Scotland.
For budding photographers, there's camera stalking. Mountain biking for those who love the thrill of pelting down a wooded hill. Fancy a spot of shooting? We can arrange clay pigeon or target shooting. Or how about heading out on a Black Grouse Safari?
The whole family
A family holiday with us includes the whole family, even your four-legged members. We love our pets at Eagle Brae and encourage you to bring your dogs. We welcome dogs in all of our cabins; there is so much space for them to enjoy here. They will have a whale of a time!
Family holidays in scotland
If you are looking for wonderful family holidays in Scotland that will leave you with memories to cherish for years to come, Eagle Brae will not disappoint. Contact us today to book your next holiday and get planning what activities you will do first!