Fantastic Outdoor Activities in the Scottish Highlands
It's fishing season here at Eagle Brae and you won't need to travel far for some fresh catch. We're conveniently located close to the Farrar and Glass rivers where salmon, trout and pike are abundant. And there are plenty of other outdoor holiday activities to enjoy in the local area. So, why not take a look at our beautiful log cabins, and book your activity-packed stay this summer?
Fishing in the Highlands
When fishing in Scotland, you are never far from rivers or the sea. Whether you're rod fishing, deep sea fishing or fishing on a loch, you'll find a range of species of all sizes. At Eagle Brae, we offer dual bank fishing on Farrar and Glass rivers. So you can fish in both rivers on the same day. The general fishing season is between April/May and September/October, and you'll need a permit for most freshwater fishing. We can take care of your fishing permits and equipment. And we'll point you in the right direction for the best catch. Find out more about fishing at Eagle Brae.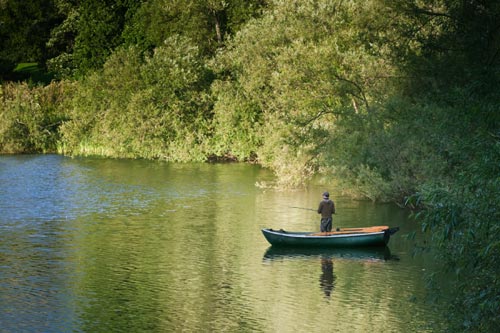 River and Loch Fishing
The rivers of Farrar and Glass are close to Eagle Brae, and you'll find some of the finest salmon swimming in these rushing waters. Here, you'll also find an abundance of brown trout, particularly between April and July. And in the River Glass, you'll find plenty of pike. If you want to enjoy a day on the loch, why not hire a boat and enjoy some of the best views in Scotland? Loch Monar sits at the head of Glen Strathfarrar. This freshwater loch is home to trout and pike. You can fish from the bank, try fly fishing or drift by on a boat. And you'll find fantastic wild brown trout in the scenic hill lochs of Lochan Airidh Fhraoich.
 Take a Walk on the Wild Side
If all that wild fishing has got you in the mood to spend more time outdoors, explore the local area by foot. There are some beautiful trails surrounding Eagle Brae, where you can get close to nature and breathe in fresh Scottish air. Explore the lush surroundings of Glen Affric, and pass along the banks of Loch Affric and Loch Beinn a' Mheadhoin. Or through woodlands where you'll weave between pine and oak trees.
Fun Family Activities
For family-friendly activity days out, you'll find plenty to see and do at Eagle Brae. Take a bike ride along the trails, passing soaring mountains, rushing rivers and vast lochs. Or, if you're an animal lover like us, you can take a pony trek and meander along the wild meadows and river trails. Take a leisurely canoe cruise along the calm tranquil waters of Rivers Glass and Beauly, and you'll be surrounded by natural beauty. Then, at night, you can still enjoy the great outdoors whilst sitting on the deck of your beautiful log cabin and gazing at the stars in the black sky.
For fun outdoor activities in the Scottish Highlands, you'll be spoilt for choice at Eagle Brae. From fishing to clay pigeon shooting, there's something for everyone. So, choose one of our luxury log cabins, and book your fun-packed holiday in the Scottish Highlands.