What is the best view in Scotland?
Well, there's a stumper. Finding a general consensus is going to be impossible, and is the sort of question that sets Facebook groups on fire! However here at Eagle Brae, we don't shirk in the face of a challenge. Rather, we gallop headlong and see where we end up (which considering this is the Scottish Highlands, it's usually somewhere pretty awesome.) So, we've put together our list – in no particular order – of what we think are our best views in Scotland.
1. Eagle Brae, Struy
Alright. When we said this list was in no particular order, we lied. Number one is a view that our guests can enjoy every day and to us, is the best there is! The views here at Eagle Brae are simply stunning. Just think of being perched high up in the wilds of the Scottish Highlands, looking down over the treetops to the misty glen below, with rivers and wildlife cutting through. We aren't called Eagle Brae for nothing… although another great contender would have been "Deer Brae"! And how extra amazing it would be if you were staying in one of our luxury log cabins with these epic views greeting you each day. For example, the view from our Certhia cabin will take your breath away as you look down onto Strathglass and towards Erchless Castle below.
Have a look at our video to experience the grandness of the views here at Eagle Brae.
2. Plodda Falls, Tomich
A view usually requires height, but the best view requires a head for heights! So step out over the waterfalls and onto the viewing platform of Plodda Falls! Yes, head on 30 minutes up the road to Tomich for a lovely half-mile walk to the glorious Plodda Falls. And note that this is said to be one of the most spectacular waterfalls in the Highlands. But, be sure not to miss it! Don't stop at the first small waterfall thinking you have arrived! No, the mighty Plodda falls is just a bit further on. And trust us, you'll know when you have arrived when you find the viewing platform with the spectacular 46m falls below. What's more, it offers the perfect setting for spectacular selfies, wild swimming in the waterfall pools, and is only a short walk from the car park.
So how do you get to the falls? Well, this is an adventure in itself! Set 5 miles beyond the little village of Tomich, along a narrow road and forest track, so be sure to drive slowly. Furthermore, you must use the allocated passing places if you do meet a car on route. Also, note that there is little mobile reception, so be sure not to rely on Google maps to get you there.
3. Glen Affric, Cannich
Glen Affric is often referred to as "the most beautiful of the Scottish Glens". And it doesn't get this name lightly! It is set close by Plodda Falls, so you can easily expand your "view bagging" onto the beautiful Glen Affric.
Loch Affric is possibly one of the most photographed Scottish lochs after Loch Ness and Loch Lomond. And it offers three options for great views. The shortest is just a 10-minute walk to a viewpoint from the car park. But, if you are looking a little more of a meander, enjoy a 30-minute walk, along the north of the river. What's more, on this route you will enjoy sights such as the beautiful Affric Lodge – owned by the in-laws of Pippa Middleton. But, the best views of Loch Affric and the surrounding mountains are along the south of the river. And this will only double your walking time to 1 hour.
Be sure to look out for other super views along the way. For example, on the way to Glen Affric car park, the road follows the shoreline of Loch Beinn A' Mheadhoin (pronounced Benavian). Which, despite being a hydro-electric reservoir, is simply breathtaking. And this is also a super cycle route if you fancy exploring by bike.
4. Glen Strathfarrar, Struy
From one magnificent glen to another. Glen Strathfarrar is also a contender for the most beautiful glen in Scotland. This rugged and unspoiled landscape is the nearest glen to Eagle Brae, just by the village of Struy, and it is more quiet and remote than Glen Affric. A haven for wildlife, you may spot wild deer, soaring eagles and a whole host of Highland animals.
For hikers and hillwalkers, this is paradise! The glen is around 17 miles long and there are lots of places to stop for a walk. There are also more challenging routes such as the Glen Strathfarrar Munros Circuit, which takes you to four Munros: Sgurr Fuar-thuill, Sgurr a'Choire Ghlais, Carn nan Gobhar and Sgurr na Ruaidhe. Munros are mountains in Scotland that are at least 3,000 feet high and the views from the top are incredible!
Visitors can walk and cycle in Glen Strathfarrar all year round, but the road is private, so you need a permit to drive in, available in limited numbers from April to October every year.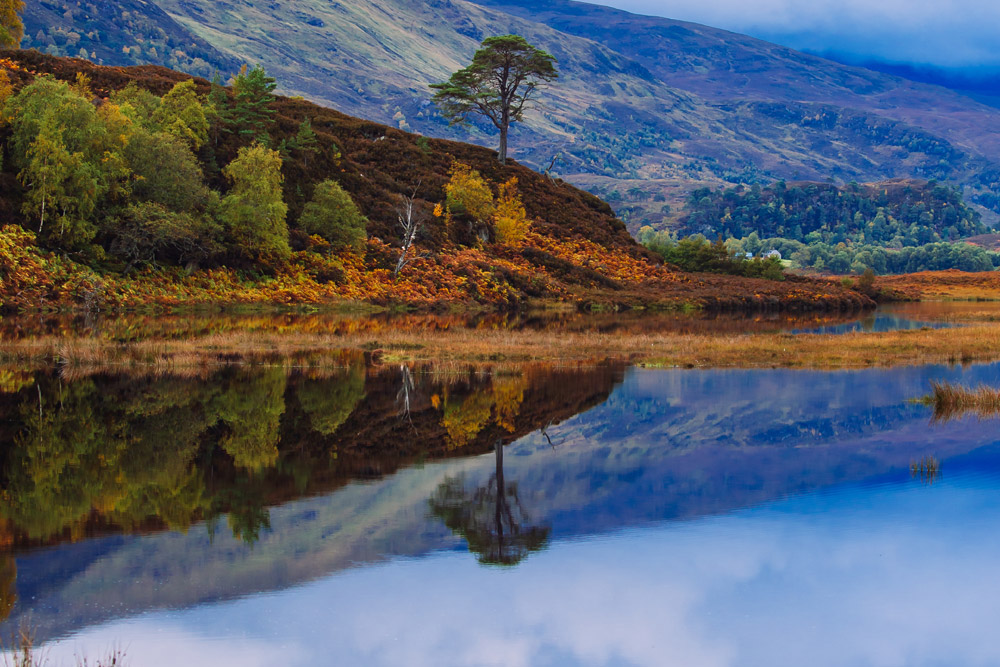 5. Suidhe Viewpoint, Fort Augustus
Did you know that there's a place in Scotland you can visit, from which you can see seven lochs, a prehistoric artificial island, deserted townships, and Iron Age forts? And all from one vantage point!
This is the Suidhe Viewpoint, 400 meters above sea level and offers a look back into Scotland's past. You can see General Wade's military road and the remnants of crafts. These are small farming cottages that were destroyed after the Jacobite rebellion of the 1700s proved unsuccessful.
You can also see sights like the Great Glen and Loch Ness, Loch Knockie, and Beinn Sgurrach in the distance. On a clear day, it is one of the best views in the area.
6. Glen Coe, Glencoe
The Highlands has been variously described as dramatic, stunning, romantic and unforgettable. All of these descriptions can be attributed to one place – Glen Coe.
It is what remains of an extinct supervolcano (a really giant volcano!) that last erupted 420 million years ago. What we see today is a high valley (or glen) that has been shaped by glaciers during the ice age. It is just under 8 miles long and makes for a spectacular drive. And this is where the famous scenes and posters of James Bond and M were shot from Skyfall. The views from the bottom up to the top are just as spectacular as the other way round. Often clouds will be rolling down, and when it has snowed the glen sides created are painted in a sheet of whiteness.
If you want to experience a view from the top, then the Pap of Glencoe is a popular walk for a sensational sight across the Highlands of Scotland.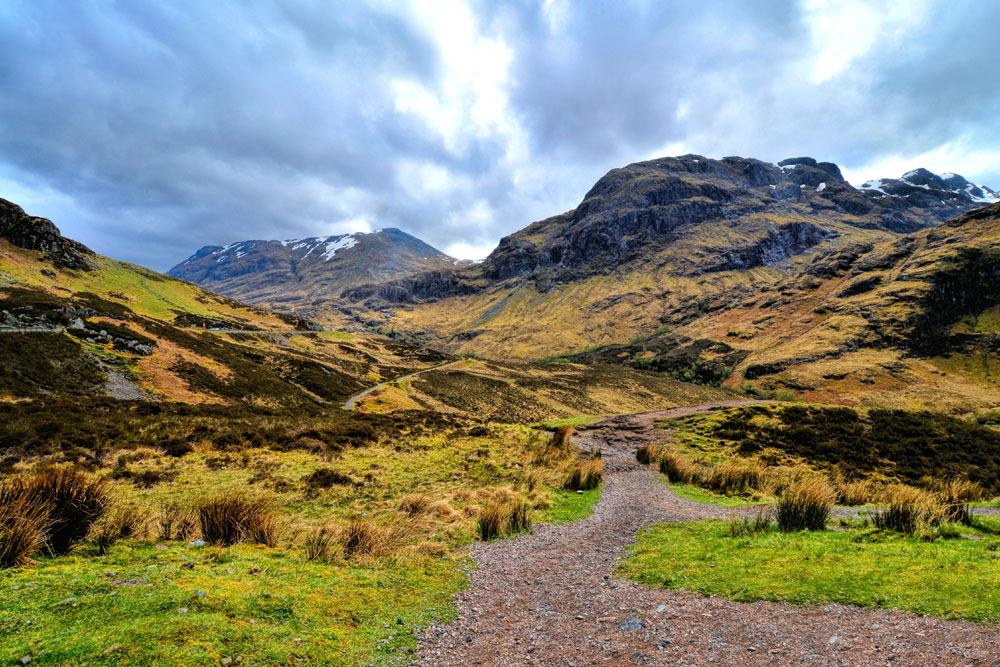 All of these sights are just waiting for you. So get ready for your next holiday and book your stay here at Eagle Brae, and enjoy some of the best views in Scotland.