Your home from home at Eagle Brae
When you come and stay with us, we want you to be able to escape the hustle and bustle of normal life. To be able to really relax and unwind. And to help you do that, we have put our heart and soul into the facilities we offer here at Eagle Brae. Making sure it really is a home from home when you come to stay. Read on to find out what we can do for you . . .
Shopping delivered to your door
Let us take away the hassle of bringing your groceries or finding a supermarket when you arrive. You can order groceries, wine, and quality meats through our concierge service. We will make sure it's all ready and waiting for you in your cabin when you arrive. Delivered and unpacked. And, if you need more while you're with us, you can order more.
We also offer quality meat from our rare-breed Berkshire pigs, traditional Hebridean four-horned sheep herd, and wild venison from our estate. There is always a selection of frozen cuts, and we'll let you know when fresh meat is available through the intranet.
Don't fancy cooking?
We can also stock your fridge or freezer with our delicious home-cooked meals. All you have to do is choose which ones you would like from the menu on the intranet, and we will deliver them to you. Then, all you have to do is heat them thoroughly, and you'll have a delicious, hot meal ready in an instant.
Our log cabins
The facilities in the Eagle Brae log cabins ensure total comfort for you throughout your stay.
Enjoy local food and drink on us with our Welcome Hamper. Stuffed full with jam, chutney, oatcakes and more, the hamper will give you a real taste of the Highlands. Everything is locally produced, except the special incense sticks we have sourced from India. Not your normal, mass-produced sticks, we light these in our own home every morning. Definitely worth giving them a try.
There's no need to bother packing your toiletries when you come to visit. Our luxury bathrooms are fully stocked with homemade herbal soaps, beautiful shower gel, shampoo and conditioner. We also supply big, fluffy towels for you to use.
Kitchen facilities at Eagle Brae
If you enjoy cooking, the kitchens in our log cabins are fully equipped with everything you need to rustle up any culinary masterpieces you like. You'll find a food processor, steamer and microwave in the kitchen as well as the normal crockery, cutlery and utensils. And, of course, a dishwasher for when the meal is finished.
You also have a choice of where to eat your meal. There is a dining area inside the cabin, or you can eat al fresco on the private decking and enjoy the stunning scenery surrounding you.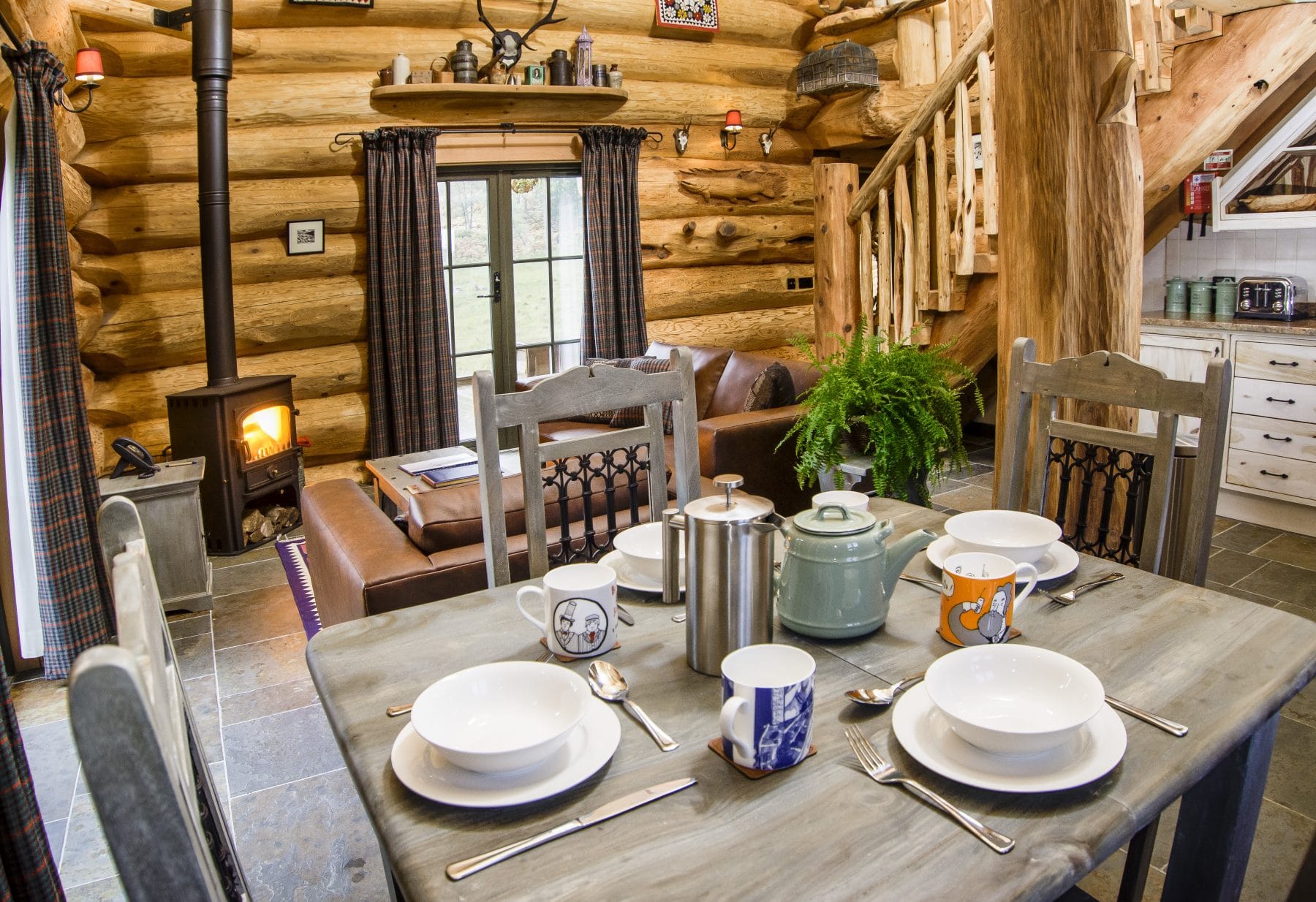 Cabin facilities
Our beautiful handmade cabins feature all the facilities you could need during your stay at Eagle Brae. They are all cosy, with underfloor heating and wood-burning stoves to keep you toasty. Intricate Himalayan carvings, stunning handmade textiles and luxury fittings are combined to delight you. Family-friendly and dog-friendly, the whole family can enjoy a break here.
There are two comfy seating areas to relax in. A lounge and a cosy area up on the mezzanine. To keep you entertained, there is a bunch of games to play in each cabin, a Bluetooth stereo, a smart TV and a DVD player with a stack of DVDs to watch.
We supply all your bed linen but, if you need to wash your clothes while you are with us, there is a washer-dryer, washing line and clothes airer in each cabin.
Should you need it, there is a landline with complimentary calls to UK landlines and mobiles. And if you absolutely have to work, there is a workspace with PC connected to the internet, a printer and free wifi throughout the cabin.
Other facilities at Eagle Brae
Nestled in the rugged beauty of the Highlands, Eagle Brae offers guests the chance to experience untamed Scotland without compromising on luxury accommodation and facilities. Regardless of the time of year you choose to visit, we promise a real smorgasbord of things to do and see.
We are perfectly placed for a spot of star gazing. With no light pollution, our night sky offers a dazzling display and spotting plenty of shooting stars is almost guaranteed. But for the best light display, you need Aurora borealis. January to March is the best time to visit for this stunning light show and, you're likely to get snow too.
We can arrange a whole host of activities for guests who would like to be a bit more active. Ranging from camera stalking, pony trekking and clay pigeon shooting to more unusual activities like dog sledding, there is something for everyone. You can book these in advance.
Eco-friendly and sustainable
Eagle Brae offers all these facilities while still staying true to our eco-friendly ethos. We are independent for utilities, powered by renewables. And we service the cabins using an LPG auto-rickshaw to minimise our impact on the environment. Nothing here is mass-produced. Anything that can be handmade is. From our beautiful cabins, the textiles within them, to the food we supply and the products we sell, like our stunning handmade Nehru Jackets. Read more about what we do to ensure we stay as eco-friendly as possible.
So, when will you be sampling the wonderful facilities here at Eagle Brae? Give us a call to book your luxury, Highland experience today!