Visiting Scotland for two weeks or more
Today, we're sharing some information for our visitors from far-off locations such as the USA, Canada, China and Australia. Often, long-haul visitors will come to Scotland for two weeks or more and stay with us as part of a wider trip. So here are a few suggestions for places to visit during your vacation in Scotland.
Getting to Scotland from around the world
Scotland is a well-connected country, easy to reach from overseas. It has five international airports (Inverness, Aberdeen, Edinburgh, Glasgow and Glasgow Prestwick). If you can't get a direct flight from your country, you will usually have to change at a major hub, such as London or Amsterdam.
Once here, you can spend several weeks, or even months, exploring our different cities, towns and rural areas. From the vast, mountainous landscapes of the Scottish Highlands, to the gentle rolling hills of the Lowlands. You could also extend your trip into neighbouring England, Wales and Ireland. All are easy to get to from Scotland, by train, boat or a short flight.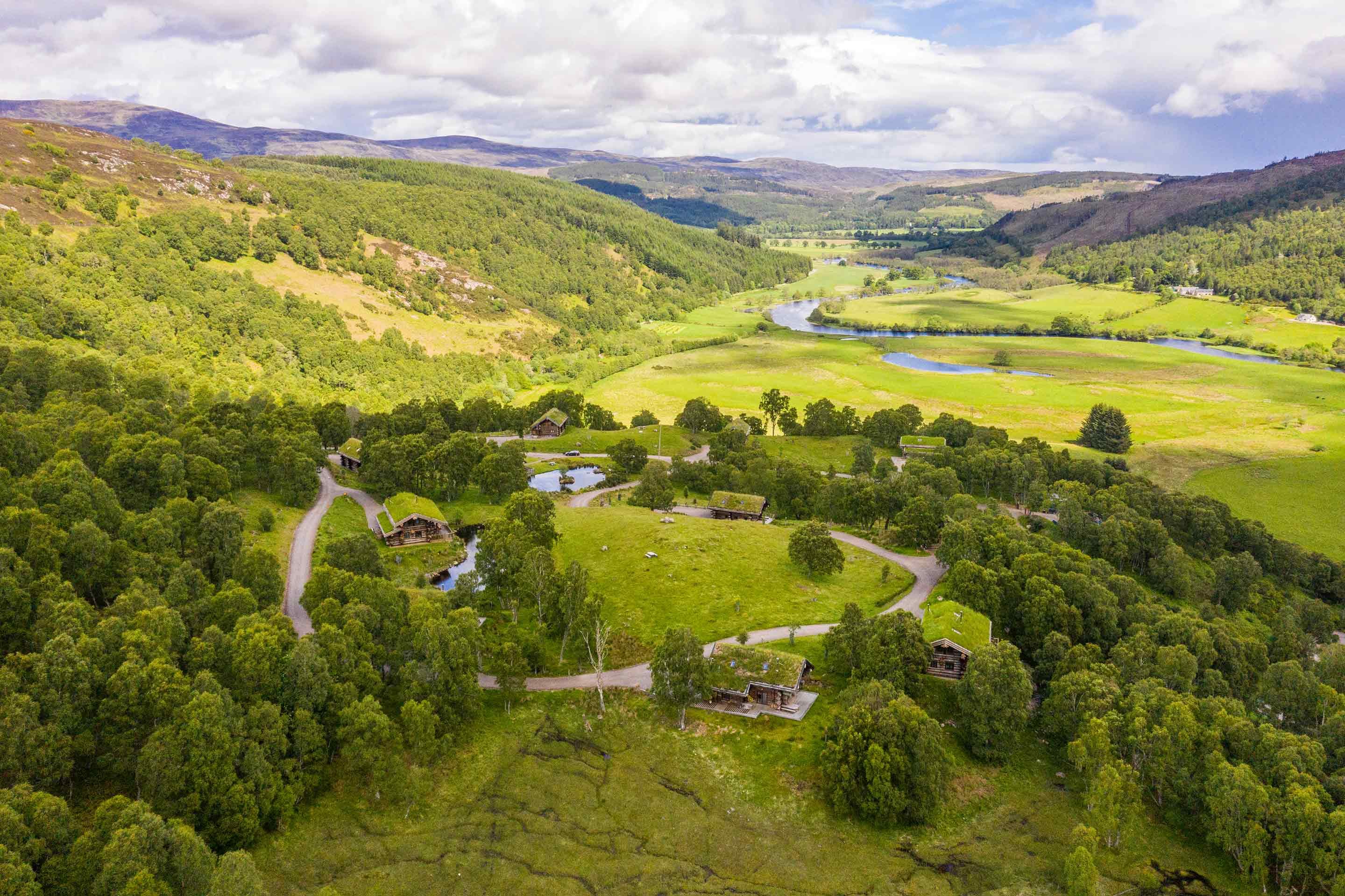 Start your adventure in the Scottish Highlands
So let's start here in the north of Scotland. Fly into Inverness Airport and you're right in the heart of the Scottish Highlands, ready to begin your adventure. Our luxury log cabin village, just a 40-minute drive from Inverness, is the perfect base. Eagle Brae sits on a remote hilltop, out in the lush, green wilderness, overlooking beautiful glens. Surrounded by nature, and yet with all your home comforts and more, in a large 5-star log cabin. You can stay within the estate, enjoying our magnificent views, abundant wildlife and outdoor activities. You could also visit local villages, head into the city of Inverness for the day, or travel around Loch Ness, Scotland's most famous loch.
Other places to visit in Scotland
We know that many of our international guests go on to explore different parts of Scotland after leaving us. Scotland is such a rich and varied country, with lots of unique regions to discover. So here are a few suggestions:
North – Firstly, you could travel up to the north coast of Scotland. In Caithness and Sutherland, you can visit the most northerly village in the UK, John O' Groats. You'll experience rugged and dramatic cliffs, beautiful windswept beaches and amazing seabirds and wildlife. You can also get the ferry up to Orkney from here.
East – Heading east from Inverness takes you to Aberdeen, an important city for the oil and fishing trades. Ferries are available from Aberdeen up to the Orkney and Shetland islands. The wider region of Aberdeenshire is also very beautiful and includes the famous Balmoral Estate, where the royal family spend their summers.
West – In the west of the Highlands, there are many glorious places to visit, such as Glencoe, Fort William and Glenfinnan. You can travel over to the islands off the west coast of Scotland, including Skye, Mull, Iona, Islay, Jura and Arran. The islands are well-connected and you can island-hop between them.
South – If you travel south from Inverness, you'll reach the central belt, which encompasses Scotland's capital city of Edinburgh and its largest city of Glasgow. Both of these major Scottish cities have their own fascinating histories, unique cultures and impressive landmarks. You can also explore the surrounding areas including Clydeside, the Lothians, Stirlingshire, Perthshire, Angus and Fife. Continuing further south towards the border with England, you'll reach the rolling hills and tranquil valleys of the Scottish Borders and Dumfries and Galloway.
Beyond – Then, if you want to continue your travels across the UK and Ireland, you can explore England, Wales and Ireland too. Good roads and rail services connect Scotland with England and Wales, while there are regular flights and ferries over to Northern Ireland and the Republic of Ireland.
Useful resources for exploring Scotland
Skyscanner flights to Scotland – Book your flights to Scotland
VisitScotland Overseas Travel – Guide to travelling to Scotland from overseas.
VisitScotland Road Trip Planner – Useful itineraries and driving routes
Traveline Scotland – Use the journey planner for public transport
VisitScotland Tourist Attractions – Discover the best tourist attractions
Weather in the Highlands – See our guide to the Scottish weather
Driving in Scotland and car hire – How to get around by car
Scottish culture and traditions – Enjoy a true Scottish experience