An authentic Highland experience at Eagle Brae
Scotland is a country rich in history and tradition. Here at Eagle Brae log cabin village, we bring you an authentic Scottish Highlands experience. If you're looking to soak up Scottish culture and customs during your stay with us, here are a few ways to do it…
Stay in the Scottish Highlands
There is no better way to immerse yourself in the Highlands, than with a stay at Eagle Brae. Set on a hilltop between the beautiful Glen Affric and Glen Strathfarrar, our log cabins blend seamlessly into the natural environment. Sustainably built and lovingly handmade, nothing here is mass-produced. During your stay, you can explore our large Scottish estate, take peaceful walks and meet the local wildlife. Red deer stroll past your cabin, a wide variety of birds soar in the skies and salmon leap in the nearby rivers.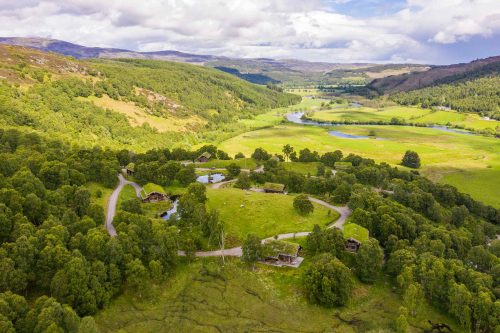 Tuck into a Scottish home-cooked meal
Eagle Brae is a self-catering resort, but we offer a meal service for those days when you don't feel like cooking. Order in a delicious home-cooked meal, ready to pop straight into the oven. Choose from our wide range of dishes, such as Hebridean crofter's pie or Shetland monkfish bake, made with fresh, local ingredients. We also provide a selection of Scottish treats for you to try in the complimentary welcome hamper, which all guests receive on arrival.
Have a wee dram of whisky
Whisky is the national drink of Scotland and an important part of Scottish culture. Distilled here for centuries, its name derives from the Gaelic 'uisge beatha', which means 'water of life'. Visit one of the many whisky distilleries near Eagle Brae to discover how this fine spirit is produced and take some back to savour by the fire in your cosy log cabin.
Explore the local area
Discover the beauty and history of the Highlands by visiting local villages and towns. Enjoy magnificent walks near Cannich, explore the ruins of an ancient priory in Beauly and look out for Nessie on the shores of Loch Ness at Drumnadrochit. Go for long walks in the stunning glens of Glen Affric and Glen Strathfarrar, and take in the dramatic Highland scenery. Talk to the friendly locals to get a real sense of the area and ask for recommendations. The Eagle Brae team are always happy to chat and share our local knowledge!
Visit Inverness, capital of the Highlands
Inverness is our closest city, around a 40-minute drive from Eagle Brae. This is a great place to visit and experience Scottish culture and tradition. Learn more about the heritage of the Highlands at Inverness Museum and Art Gallery. Sample traditional Scottish cuisine in the pubs and restaurants – Haggis, neeps and tatties is a must! And dance to traditional Scottish tunes at Hootenanny live music venue.
Discover your clan
Ever wondered about your Scottish ancestry? The Highland Archive Centre in Inverness has a Family History Room, where you can research your family roots. You can even make an appointment with one of their Highland and Scottish genealogy experts, who will help you with your research. Perhaps you have a Scottish surname? Enter it here to find out if you have links to one of the Highland clans and find your traditional tartan.
Attend a local event
If you're lucky enough to be here during the Highland Games season, we highly recommend attending one of these Scottish sports events. Taking place across the country on selected days in the summer months, the games showcase traditional competitions, including tug o' war, caber toss and hammer throw. They also feature live music, dancing and entertainment. Find a Highland Games event here for great day out, unique to Scotland. What's more, you can head to the square in the nearby village of Beauly on most Thursday evenings this summer to enjoy traditional Scottish pipe band music and Highland dancing. View times and dates.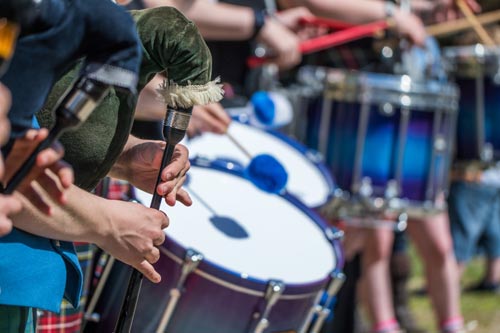 Eagle Brae is the perfect place to experience the magic of the Highlands. Book your Scottish log cabin break today.