Celebrating New Year in Scotland
The New Year is almost upon us and it's one of our favourite celebrations here in Scotland. How do you normally ring in the New Year? An evening with family and friends? A party? Or a romantic evening for two with a glass of fizz to toast at midnight?
New Year is traditionally a more important celebration than Christmas in Scotland. That's because the Protestant Reformation outlawed celebrating Christmas for nearly 400 years. Banned from 1560, Christmas didn't become a public holiday again until 1958! We've always made up for that by going to town for New Year in Scotland (Hogmanay) and there are lots of traditions that surround the celebrations. The celebration lasts longer than elsewhere, starting on 30th December and finishing on 2nd January. There are street parties, Fire Festivals and Torchlight Parades throughout Scotland. Bagpipes and drums mark the end of the old year while fireworks welcome in the new.
As well as all the parties, New Year in Scotland sees some strange celebrations too. For example, in South Queensferry, Loony Dook takes place. Hundreds of brave (or crazy!) people dive into the icy waters of the Firth of Forth for a swim on New Year's day. Many in fancy dress and raising money for charity.
Meanwhile, in Kirkwall, the streets are filled with hundreds of people taking part in a very energetic game of football that has been known to last for hours!
But one thing is guaranteed to be the same as other countries. All across Scotland, on New Year's Eve, family, friends and strangers alike join hands to sing "Auld Lang Syne" – a very well-known song that comes from a poem written by Scottish poet, Robert Burns.
Hogmanay at Eagle Brae
We love celebrating the New Year with our guests at Eagle Brae. We light a big fire in the huge Eagle Brae fire pit. Everyone joins us for champagne around the cosy fire. If the skies are clear the 1000s of stars create an amazing backdrop to our celebrations. And, if we are really lucky, the Northern Lights produce a light show like no other. This year, we have even more to celebrate as it's the 10th year of welcoming guests at Christmas and New Year!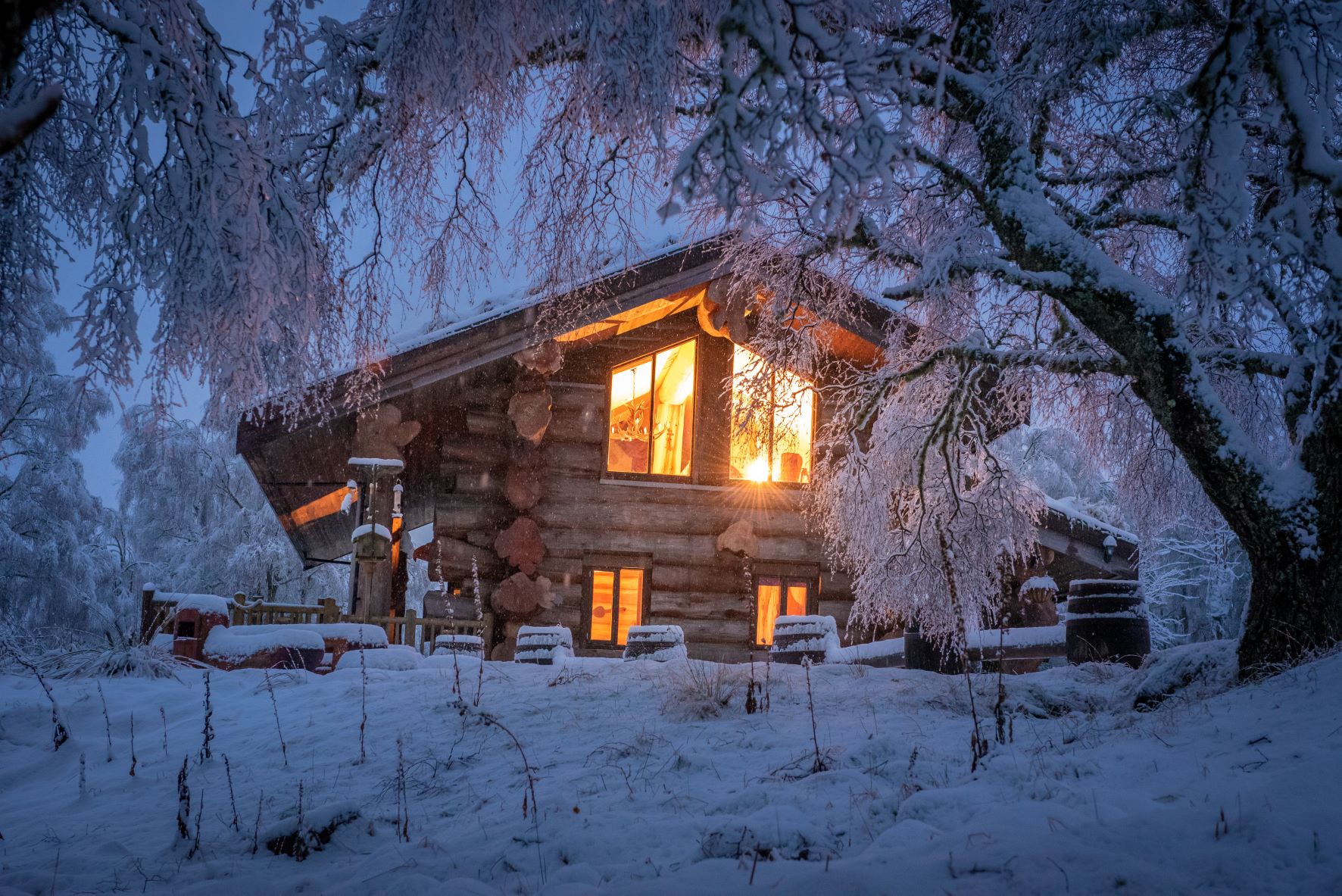 Winter Wonderland
A visit to Eagle Brae over the festive period gives you the opportunity to enjoy a relaxed New Year with a natural winter wonderland right on your doorstep. It's such a magical place to visit with the opportunity to spot wild deer, badgers and pine martens. Golden eagles, ospreys and buzzards grace the skies and the scenery is just stunning. There's plenty to do to keep you busy too. Walking, trekking, bird watching, camera stalking and so much more. Our bespoke, luxury log cabins are cosy, with a warm welcome guaranteed. Log burners, real Christmas trees, beautiful foliage decorations and welcome packs await our guests in each cabin.
Start the New Year right in Scotland
There really is no better way to start the New Year than at Eagle Brae in Scotland. We are surrounded by stunning scenery with plenty of winter activities to keep you busy and a warm log cabin to relax in at the end of the day. Book your New Year break at Eagle Brae in Scotland today!