Winter in the Scottish Highlands
There is something very special about winter in the Scottish Highlands. Here at Eagle Brae we are far removed from the busy cities. Winter ushers in a tranquil calm and a stillness slowly settles in. A blanket of snow covers the hills, where wild deer roam and eagles soar. There is no better place to experience winter than our log cabin village. So today we are looking at some of the best things to do here during the colder months.
Staying in a Cosy Log Cabin
Our hand-made luxury log cabins make the most amazing winter accommodation with plenty of quirks. From eco-insulated grass roofs, cosy log fires, secret log beds and Himalayan carvings – you're sure to be entertained without having to step a foot outdoors! For those who do manage to pull themselves from the comfort of their holiday hideaway, there's plenty to explore. Each cabin has its own seating area outdoors, so you can wrap up and admire the stunning scenery.
Our location in the Scottish Highlands provides magnificent views all winter long, amongst the mountains, glens and forests. Our lovingly hand-made cabins fit in perfectly with their surroundings, and when the snow falls, it is simply breath-taking. So cosy up in your cabin with a wee dram of whisky and let it snow, let it snow, let it snow!
Wildlife Spotting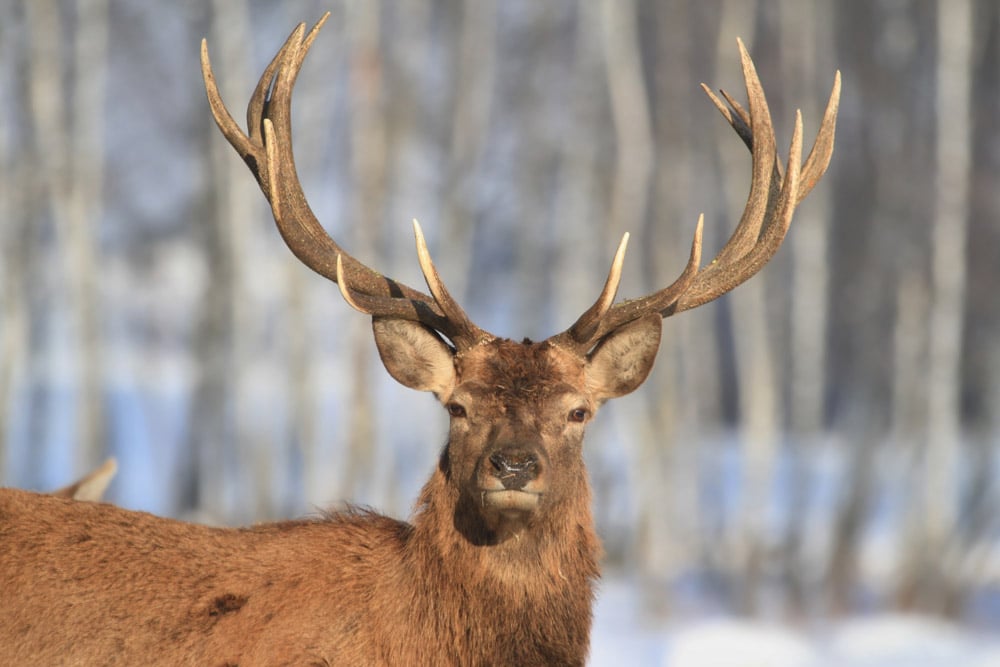 There are plenty of opportunities to spot wildlife in the Highlands, even from within our cabins. Keep an eye out for our roaming red deer family, as well as badgers, pine martens and incredible bird life. Venture offsite, and enjoy otters, seals, mountain hares, golden eagles, peregrine falcons, buzzards, red kites, puffins, ptarmigans and so much more.
Walking and Stalking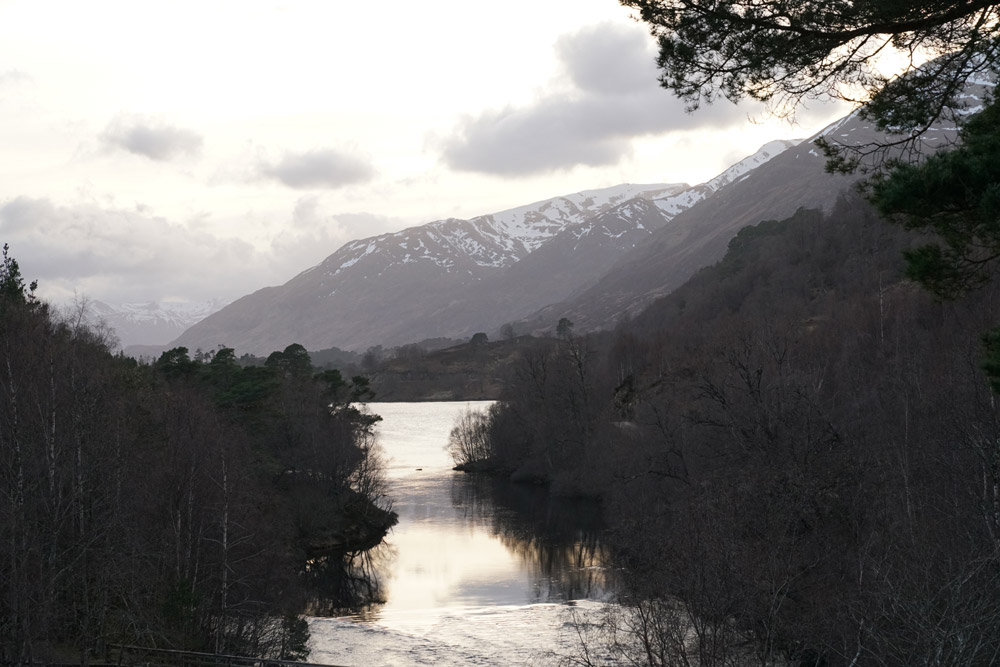 Walking in the Highlands in the summer months may include long hours of sunshine, vast rolling hills and breath-taking views of the surrounding glens, but the snow-capped mountains and icy lochs of winter are every bit as spectacular.  There are a variety of hiking trails around Eagle Brae and the nearby Glen Affric Nature Reserve.
We have several winter wildlife activities on offer at Eagle Brae too, including our popular black grouse safaris, where you can watch these feathered show-offs flock about on the moorland in preparation for the spring breeding season. And as camera stalking season gets underway in the colder months, budding photographers can head for the hills to lie in wait for the perfect "shot".
Trekking and Sledding
If walking across the Highland hills in the grips of winter isn't for you, pony trekking across the moorland may be more your speed. It's the perfect way to take in the wonderful wintery sights of the countryside at your own pace.
Alternatively, you can embark on an adrenaline rushing, once-in-a-lifetime dog sledding adventure. With our own purpose built track around a picturesque wildflower meadow, we offer this activity in the cooler months. Ideal for adrenaline junkies and nature lovers alike, there's no better way to spend winter in the Scottish Highlands. Furthermore, snowy weather is not required, as the sled can easily be pulled on the grass – it actually goes faster on the grass! Our dog sledding trips are a truly unforgettable holiday adventure.
Seeing the Northern Lights
Out in the wilderness of the Scottish Highlands, the skies are ablaze with stars on a cold, clear night. During the winter, with the dark nights, you are sure to spend hours stargazing, looking for planets and shooting stars. We have even been lucky enough to witness the captivating Aurora Borealis or Northern Lights on many occasions. You may very well catch this dazzling display of greens, purples, reds and oranges for yourself here at Eagle Brae.
Winter Day Tripping
From Eagle Brae, it's a 45-minute drive to the centre of Inverness, and a half-hour drive to Scotland's infamous Loch Ness. Perfect for a day trip. During the festive season, you can see the Inverness Christmas lights, visit Whin Park's Winter Wonderland, catch a pantomime at Eden Court Theatre, or start your Christmas shopping at the Victorian Market. Over at Loch Ness, you can hunt for Nessie on a boat trip, or enjoy picturesque walks around the water on the Loch Ness 360° Trail.
For whisky lovers, Glen Ord Distillery is definitely worth a visit. Here you can take a guided tour, learn all about the whisky-making process and sample the 12-year-old Singleton of Glen Ord. Or, for those looking for a little adventure, visit a winter sports range such as The Cairngorms or Nevis Range, which can both be reached in less than two hours. Here you can enjoy winter sports like skiing and snowboarding.
Then return to Eagle Brae in the evening for a delicious home-cooked meal and curl up by the fire with a wee nightcap.
Discover more about spending winter at Eagle Brae
So there you have it. A few fun activities to keep you entertained all winter long. Follow us on Facebook and keep up to date with our latest snaps, nature pics and happenings this winter.
To find out more about spending winter at Eagle Brae in the Scottish Highlands, please contact our team or book online.