An Eagle Brae guide to wildlife through the seasons
Located on a mountainside in the northern Scottish Highlands, Eagle Brae is a sanctuary for nature and wildlife enthusiasts. Throughout the year, you'll find an array of diverse species and Highland wildlife that will delight all ages. Our sustainable log cabins have been inspired by nature and named after our favourite birds. Designed to fit in with our natural landscapes. Whether you're visiting us in the chilly winter months, or the summer when days are long, wildlife at Eagle Brae is abundant.
Here's our round-up of the type of wildlife you can expect to see during your stay at Eagle Brae throughout all the seasons of Scotland:
Winter wilderness
The winter months capture our beautiful log cabins in all their glory. Set against a backdrop of mountains, glens and forests, the handcrafted wooden cabins blend in with the natural Highland surroundings. You'll often wake up to a blanket of snow outside, placing you in a magical winter wonderland. Look out for footprints in the snow left by the local wildlife. If you're lucky you might see roaming red deer from the window of your cabin. Then, wrap up warm and venture outside to explore the local area. Here, you'll find a plethora of animals native to Scotland including otters, seals, mountain hares, pine marten and puffins. With shorter days and longer nights, you'll have a good chance of seeing the stunning northern lights at Eagle Brae. From your log cabin, you can watch the mesmerising display of green and yellow lights dance across the black sky.
Springtime magic
Springtime is a magical time of year in the Scottish Highlands and the perfect time for Highland wildlife holidays at Eagle Brae. As the temperature warms up, animals come out of hibernation seeking food. Flowers and fauna bloom into life, from blue bluebells to fragrant yellow gorse, bringing a blanket of colour across the hills. You'll find a variety of birds at Eagle Brae and many return in the spring after migrating south in the winter. So, dig out your binoculars and look out for golden eagles, crested tits, Scottish crossbills, black grouse, osprey, and kingfishers. Then, before the days start getting longer as summer approaches, you'll also have a good chance of experiencing the dazzling northern lights. Watch from the comfort of your cosy log cabin, or head outside and see the display illuminate the Scottish landscapes.
Summer blooms
Warmer temperatures and longer days mean that Scotland's nature is at its best in the summer months. Despite our northern location, we still manage to get many beautiful sunny and warm days here in Scotland. Just don't forget to pack your wellies and a waterproof jacket as it is changeable! In June, we get up to 18 hours of daylight, giving you plenty of time to explore local Highland wildlife. Lush green rolling hills are dotted with colourful wildflowers, and vast lochs sparkle under the sunlight. On the coast, you'll find seals lazing around on beaches and seabirds circling the skies. You can go salmon fishing on Rivers Farrar and Glass, or hiking through Strathfarrar's indigenous pinewood forest. Our resident bees at Eagle Brae are looked after by Mike and you can sample the heather honey! Then, at night, sit outside your handcrafted log cabin for a spot of stargazing.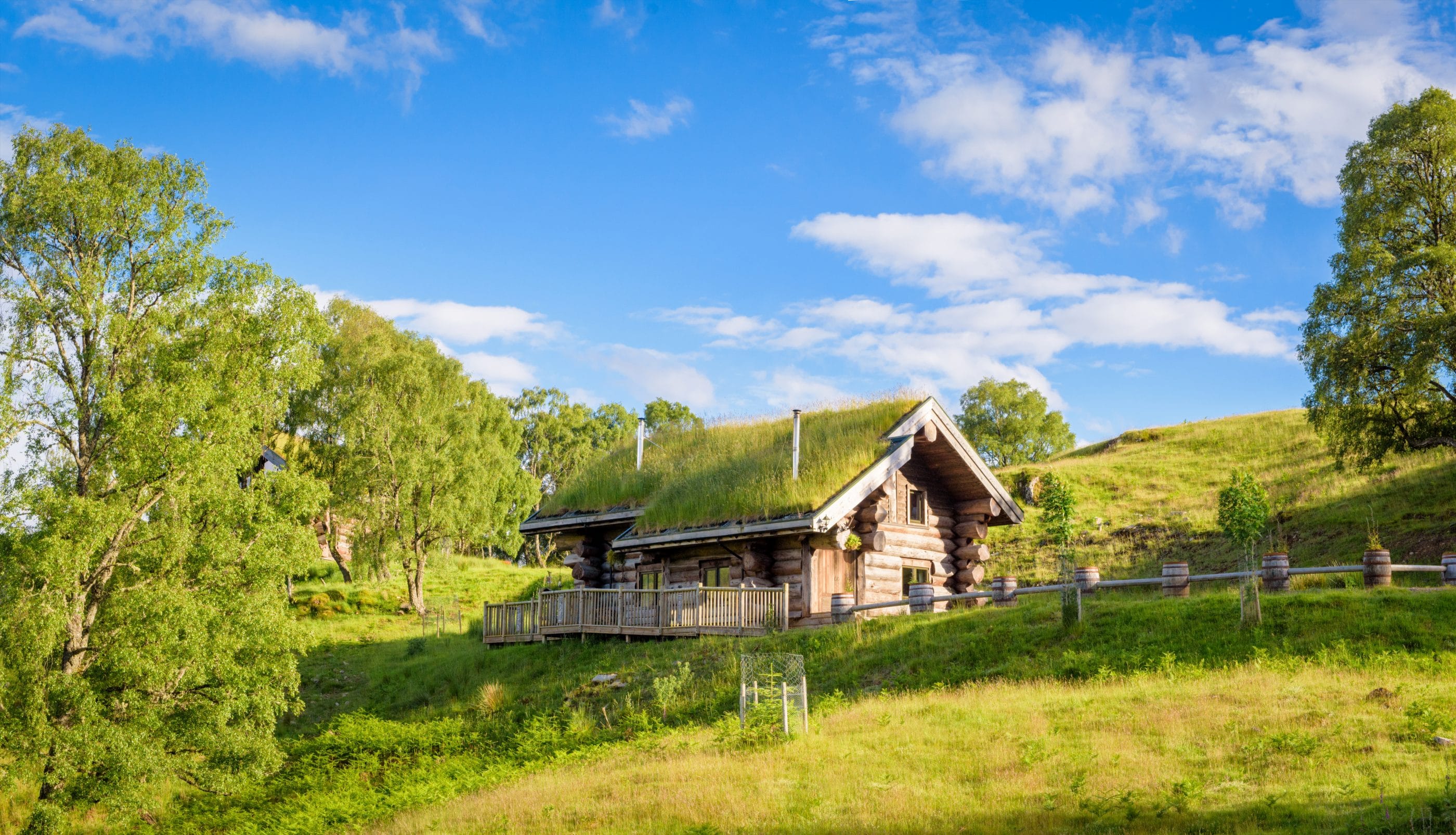 Autumn stag-rutting
Temperatures drop and leaves are falling from the trees, as the local wildlife prepares for the winter ahead. Hedgerows and trees are full of berries which attract squirrels who are stocking up for the winter. Autumn in the Scottish Highlands also offers one of the finest display of wildlife with the annual stag-rutting season. During the first few weeks of October, the stags lock horns to battle it out to win over the female deer. Then, they become the alpha male. You can often witness this impressive display from the comfort of your warm log cabin at Eagle Brae. As trees become bare, it's easier to spot our huge variety of birds. Also, autumn is a great time for bird-watching and seeing peregrine falcons hunt for prey. They reach up to 200 miles an hour as they dive down and pick up their unsuspecting prey from the ground.
So, with four seasons bursting with life at Eagle Brae, all you need to do is choose your favourite. Have a look at our special offers and book your stay at Eagle Brae. You'll get close to some of Scotland's incredible Highland wildlife species and witness some of Mother Nature's most magnificent creations.