A cosy Christmas in the Scottish Highlands
Escape to the Scottish Highlands at Christmas for a festive break like no other! Get cosy in one of our secluded log cabins, each sleeping 2 to 6 guests, and enjoy a luxurious stay, surrounded by the winter wilderness. Our log cabin village is open for week-long bookings throughout the festive period. However, our festive holidays are highly sought after. You may have to book far in advance to secure a Christmas week.
Eagle Brae at Christmas
Stay with us over Christmas or New Year and you'll receive a warm welcome! Your cabin will be decorated with a real Christmas tree and fir foliage wreath on your front door. You'll also receive our Eagle Brae welcome hamper, packed with goodies, such as whisky, beer, shortbread and oatcakes.
Perched atop a Highland hilltop, away from the hustle and bustle, Eagle Brae resort is the perfect place to spend winter. A magical setting where wild deer roam on land and eagles soar across the sky. There are plenty of opportunities to spot winter wildlife around the cabins, including a wide variety of birds, and mammals such as badgers and pine martens. When the skies are clear at night, you can see thousands of stars, or even the stunning Northern Lights!
There are lots of winter activities to keep you busy too, such as walking, trekking and sledding. Find out more about things to do at Eagle Brae in winter.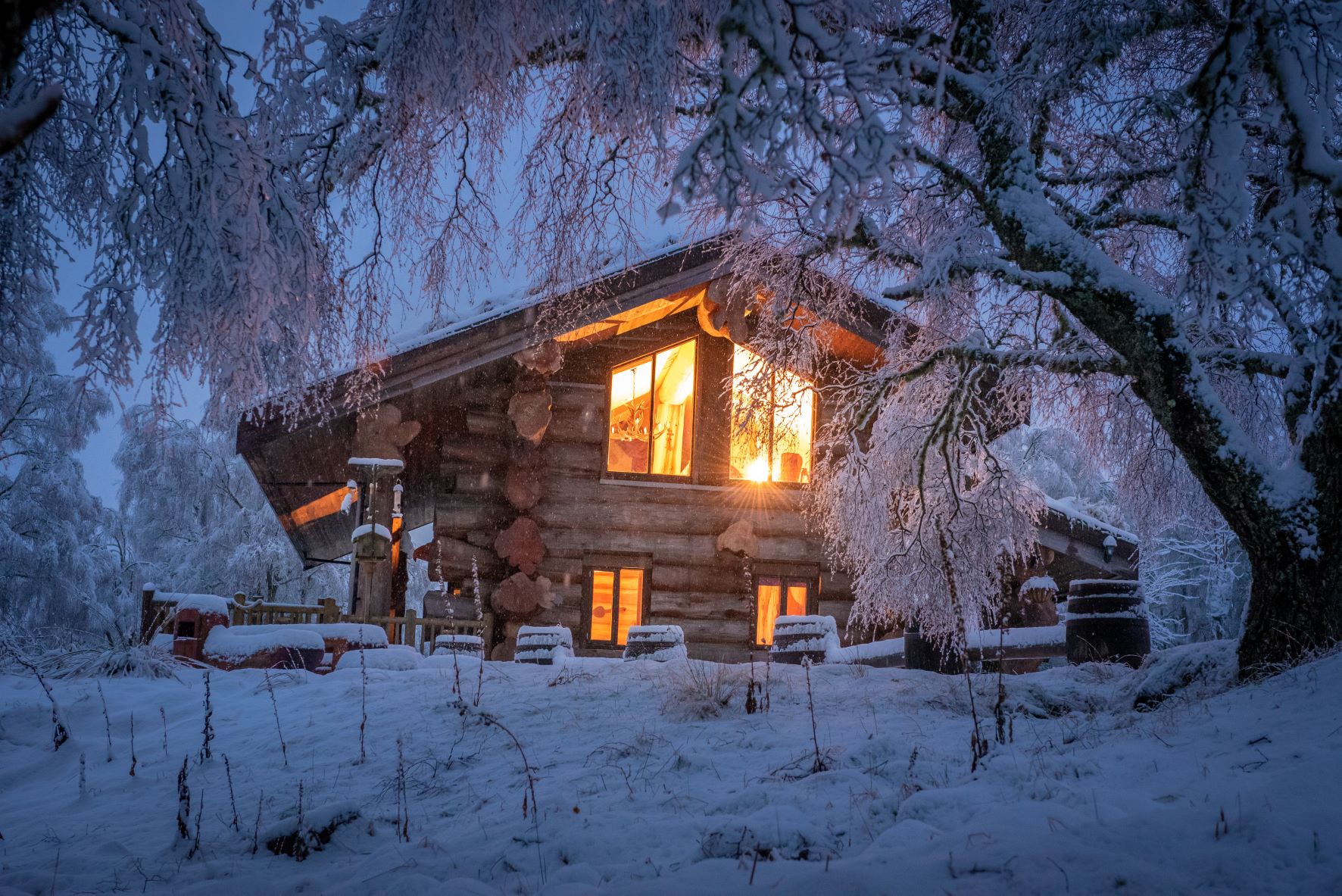 Your cosy cabin
Pick your perfect accommodation, from a choice of 10 beautifully hand-made log cabins. All are built from giant red cedar logs, sustainably sourced from British Columbia, which blend seamlessly into the surrounding landscape. At Eagle Brae, we aim to bring you an authentic Highland experience, but we also add a touch of India, through our family connections. Our intricate hand-carved signs and motifs are an important part of our character. No two cabins are the same!
Our lodges are self-catering and each has a well-equipped, modern kitchen and a comfortable dining area. Ideal for preparing and enjoying your family Christmas meal. You can order your groceries directly with us, including a wide selection of wines and local cuts of meat, and we'll deliver them to your lodge in time for your arrival.
Book your Christmas break in the Scottish Highlands
To arrange a Christmas break at Eagle Brae, please choose your cabin and book online or contact us for further information. Remember, our festive breaks are in high demand so please book early to avoid disappointment.