New year's resolutions you can stick to at Eagle Brae
With the festive season well and truly upon us, there's no better time to reflect on the year gone by and look forward to a new one. And what better way, than by making your new year's resolutions? Well, here are a few resolutions you can easily stick to, on a new year's break at Eagle Brae in the Scottish Highlands…
1. Get closer to nature
Nestled in the Scottish Highlands, our beautiful log cabins are surrounded by natural landscapes, including mountains, glens and forests. Each of our handcrafted cabins has been named after a bird, and each boasts a unique setting or view. Book a stay in our Tringa log cabin which sits atop an elevated ridge and overlooks the River Glass. Or, stay in the Loxia cabin with its private pond, and watch wild deer pass by every evening. From the comfort of your cabin, you can catch sightings of diverse wildlife day and night. Or, sit outside on your private deck and look out for golden eagles, Scottish crossbills, black grouse, osprey, and kingfishers. During your winter holidays in Scotland, you can guess which animals left which footprints in the fresh snow. Or, wrap up warm and sit outside your cabin, whilst gazing up at the stars and listening to owls hooting.
2. Be more eco-friendly
Inspired by the nature that surrounds them, each of our handcrafted log cabins is sustainable and eco-friendly. Eagle Brae is one of the best places to stay in Scotland if you want to enjoy an environmentally-friendly break. Here, you can rest easy knowing that your cosy log cabin is self-sufficient. Our micro-hydro scheme provides domestic electricity and hot water, while biomass wood-pellet burners provide underfloor heating for added comfort. Also, all water for cabins is pulled from a natural underground source, allowing you to enjoy Scottish water fresh from a spring. Here at Eagle Brae, we encourage you to help us with our carbon-neutral journey. So, why not plant a beech, ash or Scots pine tree near the Eagle Brae village? Then, you can book a stay with us time and time again and watch your tree grow.
3. Get more active
Our remote location in the Scottish Highlands, nestled between the magnificent Glen Affric and Glen Strathfarrar, makes this an ideal base for exploring the great outdoors. There's so much to see and do here, whatever your age. Start with a stroll around our grounds, where you'll catch sightings of red deer and other animals. Then discover the surrounding landscapes with magnificent local walks and adventures. Plus, we run a choice of fantastic outdoor activities right here at Eagle Brae! During a winter break, why not take a dog-sled ride on our special trail? Here, you can learn how to harness the dogs and enjoy an exhilarating ride whilst taking in the natural landscapes. Or, if you love photography, enjoy a camera stalking trip, where you'll wait patiently for that perfect shot of our red deer and black grouse. From fishing and bird-watching to golf and kayaking, you'll find a wide range of fun activities to enjoy at Eagle Brae.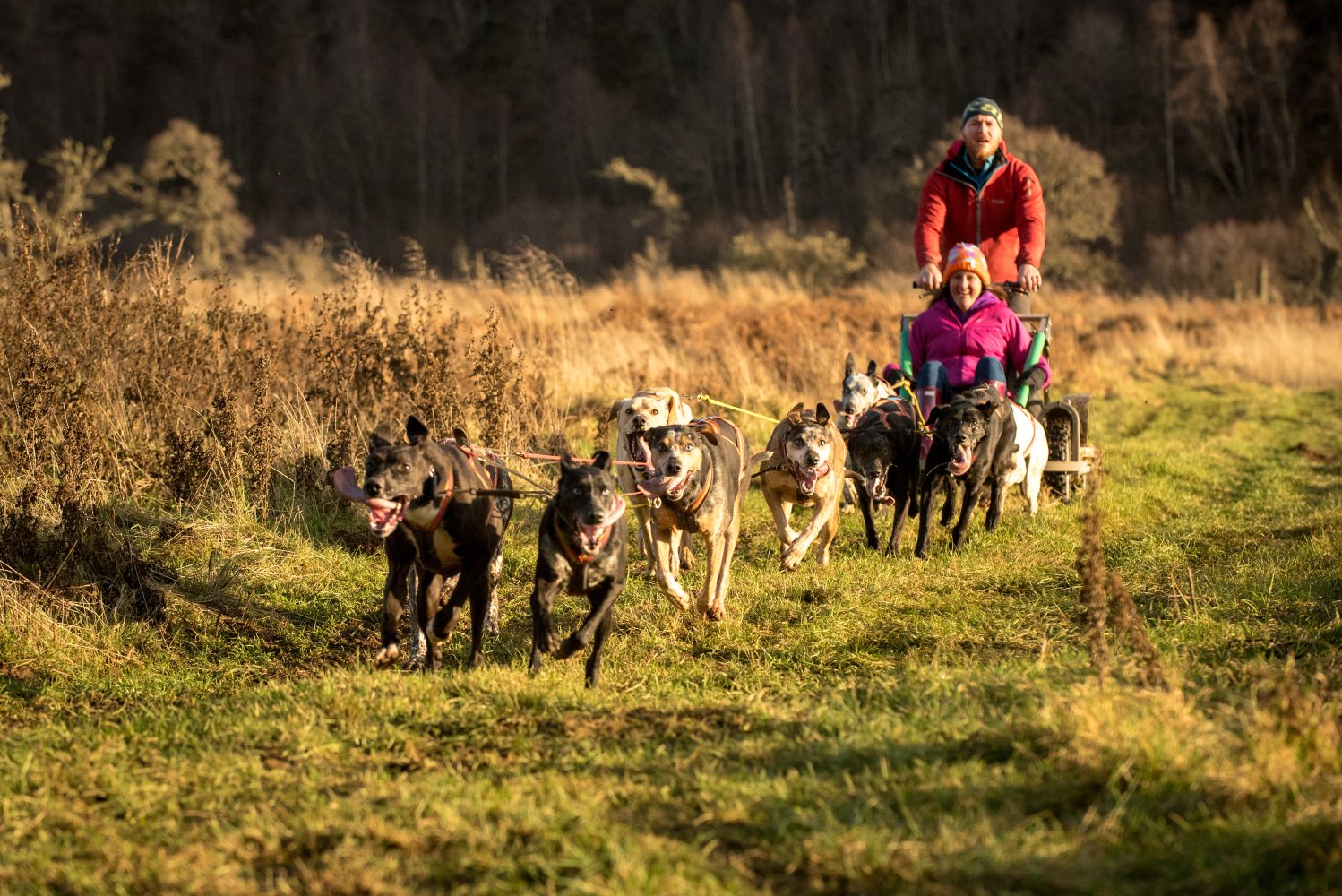 4. Switch off with a digital detox
Take a break from your phone and focus on what's really important. Here at Eagle Brae, you have the opportunity to relax and unwind. Turn off those notifications, avoid unneeded distractions and spend time with family and friends. This is the perfect place for a digital detox, away from the stresses of everyday life. Scattered across 8,000 acres of untouched wilderness, our log cabin village offers a peaceful escape. Gather around the fire and tell stories, play games, watch the sunset from your cosy cabin. Explore your surroundings with a walk up to our Hydro Weir or around our tranquil meadow. Tuck into the goodies in your welcome hamper, and enjoy delicious home-cooked meals around the table together.
So, why not pick a new year's resolution that's easy to keep? Book a stay at one of our handcrafted log cabins in the Highlands. Then, enjoy an eco-friendly new year break full of the finest nature and wildlife that Scotland has to offer.